Rackspace, which has been on roller-coaster ride over the last few months, is turning to a tech industry veteran to help steady the ship.
On May 24, the company's board of directors announced that EarthLink CEO Joe Eazor will take over as the new chief executive starting June 12. Former Rackspace CEO Tayler Rhodes left earlier this month and President Jeff Cotten has been serving as interim CEO since. (See Rackspace CEO Rhodes Hits the Road.)
Eazor has been president and CEO of EarthLink since 2014, and oversaw the company's merger with Windstream for $1.1 billion earlier this year. In his time at EarthLink, Eazor presided over the company's transition from a dial-up Internet service provider to one focused on cloud networking.
In addition to his leadership role at EarthLink, Eazor has held executive positions at EMC, Hewlett Packard Enterprise and EDS. He also sits on the boards of Commvault and Discover Financial Services.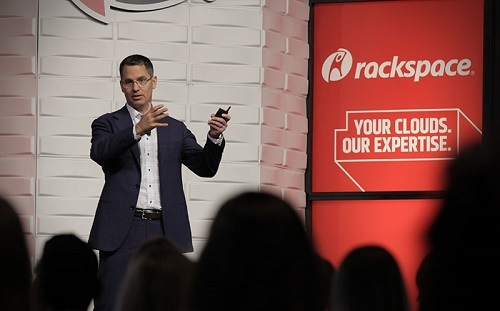 "I'm excited by the huge market opportunity that Rackspace has, as companies move out of their corporate data centers and into multiple clouds," Eazor wrote in a statement on Wednesday. "Rackspace is uniquely well positioned to take advantage of this trend, as the only provider who can deliver expertise and exceptional customer service for all of the leading public and private clouds, along with managed hosting."
After Eazor officially joins Rackspace in June, Cotten will return as company president.
The turmoil at Rackspace over the last six months has been well documented. (See Rackspace Getting Used to Turmoil.)
After the Apollo Global Management took the company private in a $4.3 billion deal at the end of 2016, Rackspace announced it would lay off about 6% of its workforce at the beginning of this year. (See Rackspace Cutting 6% of US Workforce.)
The company also announced a smaller round of layoffs when Intel ended a joint OpenStack development project earlier this year. (See Intel Pulls Funding From OpenStack Development Group.)
Rhodes stepped down earlier this month as Rackspace CEO to take a role at another company.
---
M&A activity is turning the cloud upside down. Find out what you need to know in our special report: Mergers, Acquisitions & IPOs Are Rocking the Cloud.
---
During this time, Rackspace has looked to transform itself from a company that had built clouds to one that helps manage clouds for other companies. It also now has partnerships with former public cloud rivals such as Amazon Web Services, Microsoft Azure and Google's Cloud Platform.
At the same time, Rackspace remains one of the most public proponents of OpenStack to build private clouds. It helped develop the platform with NASA about seven years ago.
The question for Eazor is whether he can steer the company through these times when public cloud is dominated by a handful of big vendors but companies still are looking at a hybrid strategy of public and private clouds to support their needs.
"Thanks to the strategy Rackspace adopted a few years ago, it's got the early lead in the managed cloud space. My goal here is to build on that foundation and make us the world's preeminent IT-services company," Eazor wrote.
Related posts:
— Scott Ferguson, Editor, Enterprise Cloud News. Follow him on Twitter @sferguson_LR.