It's been a busy week for Rackspace. After hiring a new CEO on Wednesday, the company is announcing its largest acquisition to date on Thursday, which will help expand its managed services business into enterprise applications.
On May 25, Rackspace is officially announcing a deal to buy TriCore Solutions, a Norwell, Mass.-based company that specialized in managing enterprise applications, including enterprise resource planning (ERP), human resources, supply chain and other software, for mid-market businesses.
The two firms did not disclose the financial details of the agreement, but Matt Bradley, vice president of corporate development and strategy for Rackspace, told Enterprise Cloud News the acquisition was the largest in the company's history.
Previous Rackspace acquisitions usually involved other companies with less than 100 employees. TriCore has about 500 workers in the United States and India and all of them will become Rackspace employees once the deal closes in June, including CEO Mark Clayman, Bradley said.
For several years, Rackspace attempted to compete in the public cloud market against the likes of Amazon Web Services. It's a fight that the company eventually lost and decided that it would focus on managed cloud services for its customers, along with partnerships with AWS, Microsoft Azure and Google's Cloud Platform.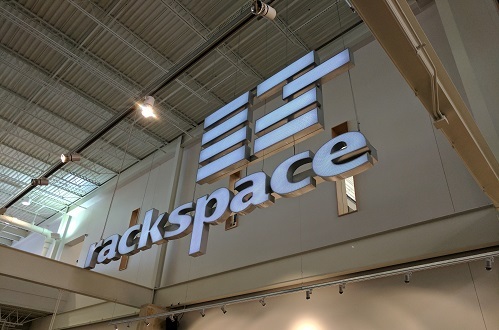 At the same time, Rackspace continued with private cloud build-outs, using the OpenStack platform it helped develop with NASA about seven years ago.
From there, Rackspace has begun expand what it can offer as a managed service through the cloud, whether public, private or hybrid. The company has a security services it has built out over the last several years and recently introduced a line of professional managed services that customers can use on a project-by-project basis. (See Rackspace Sees Big Bucks in Pro Services.)
With the TriCore deal, Rackspace can move up the stack and offer customers in the mid-market a way to manage their enterprise applications. Although companies such as Oracle and SAP also offers their apps through the cloud, Bradley said these vendors don't want to actually manage the apps themselves for their customers and are looking to partners through their channel, as well as companies such as Rackspace.
"What TriCore does is that they do the technical support, but they also do the functional support on top and even if the whole world went to Oracle, someone would still have to manage the application on behalf of the customer," said Bradley.
---
M&A activity is turning the cloud upside down. Find out what you need to know in our special report: Mergers, Acquisitions & IPOs are Rocking the Cloud.
---
Ted Chamberlin, a research vice president for cloud service providers at Gartner, estimates that the global market for the type of services TriCore provides is worth about $110 billion, and even if Rackspace goes after a small fraction of that market, it's still worth about $10 to $12 billion.
"At the same time, this gives Rackspace a lane to swim in where they don't have to compete or worry about AWS, Google or Azure," Chamberline said.
Acquisitions are rare for Rackspace, but that could change now that the company is under private management and is looking to build out it services portfolio, Bradley said. In addition, the company is eyeing expansion in continental Europe and Asia and other deals could give them a foothold in those markets.
Even with the appointment of new CEO Joe Eazor this week, those plans are unlikely to change as Rackspace will likely pursue an aggressive plan to expand its managed services portfolio through the second half of the year. (See Rackspace Taps EarthLink Executive Joe Eazor as New CEO.)
"Some people are looking at us and saying 'You guys are really going for it,' and my answer to that is yes," said Bradley "I think our new ownership wants us to be really aggressive in growing the business and driving new products into our customer set so that we can ultimately become a more important company in the eyes of our customers … this is big investment number one with many more to come and I think it shows that our direction is the opposite of what it was eight years ago."
Related posts:
— Scott Ferguson, Editor, Enterprise Cloud News. Follow him on Twitter @sferguson_LR.