When does a 100-year-old company reinvent itself?
For Pitney Bowes, which started in the days when Congress first authorized first-class stamps for certain packages, the journey started about five years ago when the company began its trek into the cloud -- both internally and as a way to retain and reach new customers.
The result is what Pitney Bowes calls its Commerce Cloud, which the company is using the deliver a range of cloud and software-as-a-service (SaaS) products across its various businesses, including e-commerce, small and midsized business (SMB), enterprise and even its own software development unit.
The cloud is also allowing Pitney Bowes to expand into the Internet of Things. The company recently partnered with Google on several initiatives, including using Android within one of its new postage machines.
"Our CEO asked us to create a multi-year tech strategy and asked what are the areas that we want to be great at over the next five years, and to build a bridge to our next century," Roger Pilc, executive vice president and chief innovation officer at Pitney Bowes, told Enterprise Cloud News in an interview.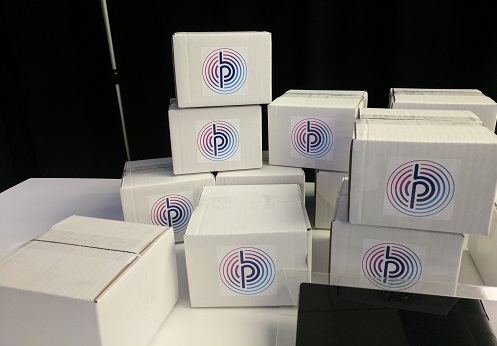 "One of those things was SaaS, and we looked at our different hosting providers compared to what we do in our own data centers and made a decision to go all in to the cloud -- we unveiled the Commerce Cloud about a year and a half ago but it's been a five-year journey," Pilc added.

Building the cloud
Headquartered in Stamford, Conn. with nearly 15,000 employees, Pitney Bowes's cloud transformation reflects much of what is going on in the industry: a legacy company trying to get a handle on digital transformation, a changing customer base with different needs and a desire to move off legacy systems.

When it comes to the cloud, Pitney Bowes is embracing the technology internally, as well as externally.

To help build its Commerce Cloud, Pitney Bowes turned to Amazon Web Service, starting with basic infrastructure-as-a-service (IaaS) and progressing to Simple Storage Service (S3) for cloud storage and then Elastic MapReduce for big data.

One reason for this approach is that the company grew over the years through a series of acquisitions, which James Fairweather, senior vice president of technology, said gave Pitney Bowes access to a lot of technology, but these applications were siloed. The cloud eliminated those issues.

"We had these abilities but they were trapped in existing products," Fairweather said.

The building of its own cloud from AWS has also helped in developing new apps, with Pilc estimating a six-month development time from concept to deployment.

This is one reason why Pitney Bowes began collaborating with Apigee, which is part of Google, to develop the APIs necessary to connect different applications to the cloud and then bring those services to customers through SaaS.

Reaching small businesses
While not using the Google Cloud Platform, Pitney Bowes is now partnering with the company to provide SMB customers with access to Google G Suite as a SaaS product through the Commerce Cloud. Other cloud partnerships include platforms such as Yext, Acquisio, DocuSign and Nimble CRM.
---
Keep up with the latest enterprise cloud news and insights. Sign up for the weekly Enterprise Cloud News newsletter.
---
The partnership benefits Google as well, and allows the company to reach customers with its SaaS offerings, said Chet Kapoor, vice president of Google's Apigee group, in an interview at Google's Chelsea offices in New York City. Right now, Google and Microsoft are competing for market share with AWS in the ever-expanding cloud space, and small businesses are seen as greenfield for these various services. (See AWS, Despite Slowdown, Reigns Over Cloud Market – Report.)
"When I talk to small businesses about delivering the digital experience to customers, I tell them it's something that they have to get better at, and one of the ways to do this is to use companies such as Pitney Bowes that are actually aggregating these services and make them available," Kapoor said.
While reaching customers through the cloud, Pitney Bowes has also undergone an internal change as well, relying on the cloud for services to help the business run, especially through using Salesforce, as well as Okta for cloud identity management.
All these changes have Pitney Bowes ready to invest more in other technologies, such as IoT. At a recent announcement in New York, the company showed off its SendPro C-Series, a mailing and package tracking device that uses Android as the underlying operating system. The company now has a way to gather data from these machines and analyze it, with many customers looking to use this data to cut down on downtime.
"We're getting synergies between the business units that would have not been possible without moving each of them to the cloud," Pilc said.
Related posts:
— Scott Ferguson, Editor, Enterprise Cloud News. Follow him on Twitter @sferguson_LR.