ORLANDO, Fla. -- At Oracle Industry Connect 2017 here, Oracle executives have a simple message for attendees in seven key industries: It's all about the cloud.
The only questions that seem to matter are how, precisely, customers will walk the path between their on-premises present and the inevitable cloud future; and how long it will take to reach the promised-land-as-a-service (PLaaS).
The seven industries represented at industry connect are communications, construction and engineering, energy and utilities, financial services and insurance, hospitality, life sciences and healthcare, and retail.(See Oracle Takes On Amazon in Cloud Infrastructure.)
In the opening morning session for the communications industry Douglas A. Suriano, senior vice president and general manager at Oracle, talked about the factors driving the transition to the cloud -- and the challenges slowing that transition.
Suriano said that information on the driving factors came from interviews with 137 Oracle customers. In those interviews, the company found that customers feel prepared for both the rapid pace of change and the rapid growth in network traffic accompanying that change. On the other end of the scale, there are issues that remain significant challenges.
Chief among those challenges, Suriano said, are:
The need to improve the customer experience
The complications of monetizing new services
Responding to customer preferences -- especially when those customers are demanding more control over their computing environments.
These three are tied together by a factor that Suriano mentioned, a factor that would be referred to by other speakers throughout the day.
"The most challenging hurdles are not technological," Suriano said. He explained, "The skill sets and business models are the biggest challenges."
Later in the day, Oracle's executive vice president, Bob Weiler, was joined on the general session stage by Oracle CEO Mark Hurd.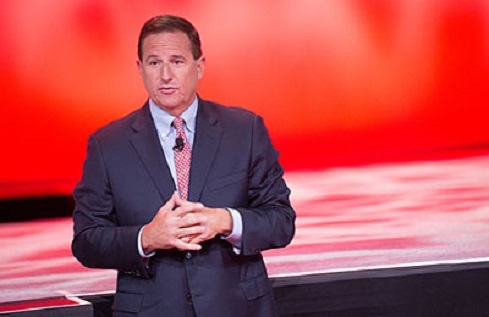 In response to questions from Weiler, Hurd expanded on some of the themes introduced by Suriano and others, and spoke about Oracle's response to the challenges of a cloud transition. To begin with, Hurd said, "The cloud is not just about technology, it's about a business model."
Hurd explained just what the cloud business model entails.
"The fact that I can move investment off my balance sheet to someone else is a big deal. The fact that I can move staff from my employment to someone else, is a big deal." He then took the idea further, to it's ultimate impact on enterprise IT. "I think you're going to see data centers go away," Hurd said, explaining, "There's not a company in the world not trying to cut costs and gain market share simultaneously."
Later, in a question and answer session with journalists and analysts, Hurd went into more detail on the business and business model changes to come. Asked about the process that led Oracle to put its own business infrastructure in the cloud, Hurd said, "There's sort of an inevitability. It's not technical change, it's business model change for the industry." He admitted, though, that, "There's a reluctance to take things we completely control and hand them into places where we have less control." Why do it, then? "The company that goes to the cloud will inevitably have an advantage."
Hurd said that the business change brought by the cloud is about more than accounting. "Despite whether it shows up as opex or capital, the reality is that it costs less," he said. "We don't really care about the denomination of the money. The question for a CIO is whether you get a better economic outcome in the end. It just costs less." (See Oracle Acquires Apiary to Bolster Cloud APIs.)
When asked whether his conviction about better economic outcomes means that he's willing to commit to a timeline for moving all Oracle customers from on-premises licenses to the cloud, Hurd gave a direct answer. "We purposely don't have a timeline," he said. It's not though, that the company is unable to force the issue -- it's simply unwilling.
"We could do things to speed this up," Hurd said, explaining, "We could take the on-prem customers and tell them we're end-of-lifing their products, and it would speed the change, but I don't think that's a good idea. We will, over time, get them all."
— Curtis Franklin, Security Editor, Light Reading