Nutanix CIO: We Drink Our Own Champagne
Wendy Pfeiffer's first brush with technology came during her junior year of high school.
After winning a local contest, Pfeiffer worked for NASA's Ames Research Center, helping to build cockpit displays of traffic information (CDTI) for the space agency. It's an experience she would take with her as she moved about in her technology career from Cisco, to Yahoo, to GoPro and finally Nutanix, where she was named CIO in January.
Nutanix, which went public in 2016, had never had a CIO before. For Pfeiffer coming to an enterprise IT company that focuses exclusively on the cloud from a business like GoPro, which had a millennial culture and vastly different technology needs, is proving an ongoing challenge for Pfeiffer and her team of about 60 employees.
"Although we know technology, there's some operational layers and personnel layers, and compliance layers and so on to IT that really need to be developed out and emphasized, and so I think that was the background reason for, 'Why a CIO? Why now?'" Pfeiffer said during an interview at Nutanix's .NEXT show in Washington D.C.
In her role as CIO, Pfeiffer is not only adopting the cloud as one of her main technologies strategies, but also utilizing all of what Nutanix is developing to help manage public, private and hybrid cloud platforms. (See Nutanix Buddies With Google, Tackles Hybrid Cloud.)
In older tech parlance, this would be akin to "eating your own dog food," but Pfeiffer prefers different terminology.
"I've started a campaign since I've been there to try to elevate a little bit. I call it drinking our own champagne, and I want us to start moving off from some of the older things, and moving into the new," Pfeiffer explained to Enterprise Cloud News.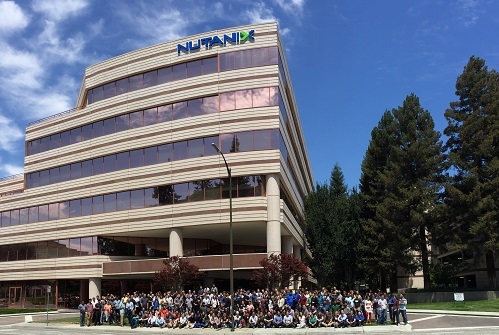 "Even with Nutanix, even within an IT organization and infrastructure and applications that are based on our technology, we have [different] generations of our technology, and we are, in many cases, the star pupils in terms of how we use," Pfeiffer added. "On the other hand, just like any other organization, we get set in our ways … I have team members who are expert in a generation or so back in the technology, and so we are constantly challenging ourselves to use the new."
IT changing
Within her team, even with the resources and knowledge of Nutanix behind her, one of Pfeiffer's biggest challenges is
DevOps
, and the constant ability to develop, test, deploy and update applications, whether as traditional software or within the cloud. As with other IT departments, there are workers who specialize in infrastructure or storage but don't code or write scripts.
Like many other IT leaders, Pfeiffer said she struggles with the skillset questions that plague any number of companies. The rush to cloud, as well as automation of older infrastructure, means that many IT pros are being squeezed.
Pfeiffer's approach is to adopt what she has in terms of talent to the current situation. At a previous leadership post at Robert Half Technology, a recruiting firm, she spent 18 months retraining staff and adjusting to the cloud era.
"We have a dearth of technology skillsets in Silicon Valley, certainly, if not the world, and so how do we make the most of the folks we have?" Pfeiffer said.
As with many other midsized enterprises, Pfeiffer oversees a mixed environment, where some applications still run on-premises in a traditional manner, and there's also a healthy mixture of different clouds and cloud services, including Amazon Web Services, Google Cloud Platform, and some Microsoft Azure since the company uses Office 365, as well as other software-as-a-service apps.
There's also plenty of Nutanix, but there's still the challenging of managing it all. "That's been a challenge at my level for years and years -- what workloads can run where and where are we trapped based on other decisions we've made? [It's] not about the infrastructure. We get the infrastructure challenge. It's at that app layer," Pfeiffer said.
The CIO's dilemma
On the tech challenges ahead, Pfeiffer noted that the overall concept of digital transformation is something she and her fellow CIOs talk about a lot and how IT departments of different sizes can help their companies get to that level.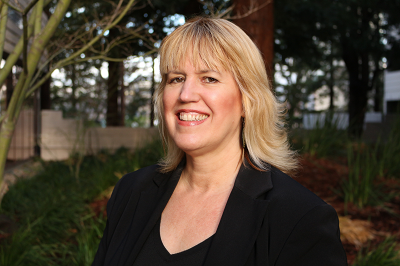 However, there are also some specific needs. The upcoming changes to H-1B visas, and the possible talent drain that could bring, is one. The other is the European Union's General Data Protection Regulation (GDPR), which comes into effect next year and will not only tighten rules around personal data, but also dictate what data can travel outside the EU.
---
Keep up with the latest enterprise cloud news and insights. Sign up for the weekly Enterprise Cloud News newsletter.
---
There's also artificial intelligence and what that means now and what it could mean in the future. Pfeiffer said: "The machine is creating the next inference. It's drawing a conclusion, and then taking action from that next level and that next level, and that scale out, if we can create machines and systems that do that, that next scale out is really, really powerful, and the thing is, we don't have a concept of how that's going to happen or when that's going to happen. We really are just at that machine learning level, and to call it AI is aspirational, but it's not unthinkable."
Dual roles
However, Pfeiffer has also worked at adopting, and turning what some would say are weaknesses and turning them into strengths. Right now, she's a CIO and a high-ranking executive in an industry -- Silicon Valley -- that has a reputation for treating women unfairly. Check out any stories written about Uber over the past year. (See Kalanick Steps Down as Uber CEO.)
Throughout her career, Pfeiffer says she's been mostly mentored by men who occupied the top ranks of companies and that the default position they taught her is to downplay being a woman and focus on the tech or the task at hand.
Pfeiffer, instead, has embraced her leadership role without trying to hide who she is.
"Where I do think I'm different is that I am actively 'leading like a girl:' I'm actively being feminine. I am a mom. I am nurturing and emotional. I use too many words. And I'm really good technically, and I'm a really good leader, and I'm those things all at once, and being a mom, being a wife, being emotional doesn't diminish my intelligence, doesn't diminish my experience or my abilities," she said.
Related posts:
— Scott Ferguson, Editor, Enterprise Cloud News. Follow him on Twitter @sferguson_LR.