Database developer MongoDB is ready to try its luck in the stock market and has filed paperwork with the US Securities and Exchange Commission to file an initial public offering (IPO).
The ten-year-old, New York City-based company filed its IPO paperwork with the SEC on Thursday, and now plans to pitch its offering to investors. The filing did not indicate when the IPO would launch or what the opening stock price would be listed as.
MongoDB's business model is based on open source database software and getting developers to switch to its database. The paperwork indicates that its "freemium" software has been downloaded more than 30 million times. The company has also seen rapid growth in the past 18 months, growing its customer base from 1,700 to 4,300 between January 31, 2016 and July 31 of this year.
In addition, MongoDB now employees about 820 people.
However, the key to the company's growth is its subscription model, which accounts for about 90% of its revenue in 2017.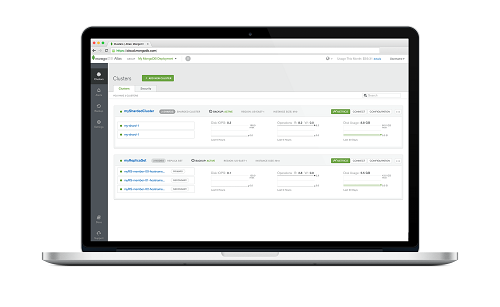 The company notes that "a database is at the heart of every application," and cites a study from IDC that finds the worldwide database market is expected to grow at a compound annual growth rate (CAGR) of 8% between 2016 and 2020, topping off at $61.3 billion.
MongoDB is also betting on the cloud to get its software into the hands of more customers and developers. In 2016, it released Atlas, a database-as-a-service platform. Since then, other big-name database players, including Google and Microsoft have also offered cloud-based DBs. (See Microsoft Azure Beefs Up Cloud-Based Database Support.)
As the company's September 21 IPO filing indicates:
Organizations worldwide are undergoing a fundamental modernization of legacy IT infrastructure and rapidly adopting cloud or hybrid architectures. As developers re-platform existing applications, they have the opportunity to re-evaluate the underlying database platform that the application is built on to ensure that it will support the functionality required today and is flexible enough to adapt to future requirements. In addition, organizations prefer solutions that do not lock them in to any one public cloud provider, which limits their flexibility and exposes them to potential cost increases over time.
As with many other startups, MongoDB has burned through cash on the road to its IPO. The SEC papers indicate that at the end of January 31, 2017, the company pulled in revenues of about $101.4 million compared to a net loss of over $86 million. For the first six months of this year, the company posted revenue of about $68 million compared to net losses of $45.7 million.
There's also an accumulated deficit of $393.2 million.
---
Keep up with the latest enterprise cloud news and insights. Sign up for the weekly Enterprise Cloud News newsletter.
---
After a down year for tech IPO, 2017 has proved more enticing for companies that want to go forward within the public market. (See Special Report: Mergers, Acquisitions & IPOs Rocking the Cloud Market.)
Cloudera, which makes big data and analytics products with a combination of open source and proprietary software, went public this year and made its first acquisition a few months ago. (See Cloudera Acquires AI Startup Fast Forward Labs.)
Appian, a creator of low-code software, also went public earlier this year after nearly 18 years as a private company. (See Appian CEO Sees Low-Code as Digital Transformation Key.)
In addition, Canonical, the maker of open source Ubuntu and a growing player in the Internet of Things and cloud markets, has also indicated that it will offer an IPO at some point. (See Canonical Doubles Down on Enterprise Cloud, IoT.)
With the MongoDB IPO, Morgan Stanley, Goldman Sachs, Barclays and Allen & Company are all acting as advisors, according to the company.
Related posts:
— Scott Ferguson, Editor, Enterprise Cloud News. Follow him on Twitter @sferguson_LR.