The software-as-a-service (SaaS) market is more mature than other cloud computing services, but it still grew in the fourth quarter of 2016, pulling in $13 billion in global revenue, according to a new report from Synergy Research Group.
While Salesforce has helped define the SaaS market for years with its CRM offerings, it's actually Microsoft that is now dominating the market, with its own combination of collaboration, CRM and enterprise application software, such as Office 365, the March 9 report found.
Other top players in the SaaS market include SAP, Adobe, ADP, IBM, Workday, Intuit and Cisco.
Oracle and Google showed the most growth during the quarter, with Google benefiting from its G Suite apps offering, and the company spent a good deal of time at its Cloud Next '17 conference this week talking up improvements to its suite. (See Google Takes Fight to Amazon, Microsoft & Cisco.)
Overall, the global SaaS market grew 32% from the fourth quarter of 2015 to the fourth quarter of 2016, Synergy found. While that growth is less than the infrastructure-as-a-service (IaaS) and platform-as-a-service (PaaS), the report predicts SaaS offerings will double in the next three years. (See Public Cloud Spending Will Hit $122B in 2017 – Report.)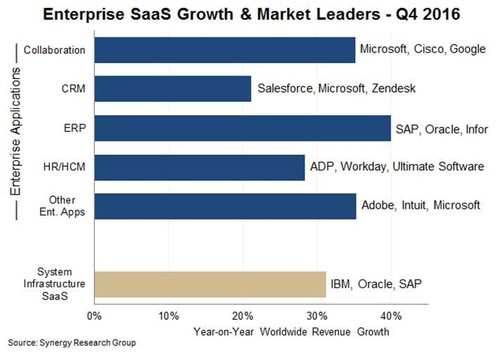 One significant reason for this growth is that businesses of all sizes are no longer in the market for on-premises software and want to buy the applications they need based on subscription. For years, Microsoft and Oracle dominated the enterprise app market with their offerings, but more nimble players such as Salesforce and Workday changed the game, and older software players have been forced to adjust. (See Microsoft, Oracle Layoffs Loom as Companies Pursue Cloud Plans.)
"Traditional enterprise software vendors like SAP, Oracle and IBM are all pushing to convert their huge base of on-premise software customers to a SaaS subscription relationship," John Dinsdale, chief analyst and research director at Synergy, wrote in the report. "Meanwhile relatively new cloud-based vendors like Workday and Zendesk are aggressively targeting the enterprise market and industry giants Microsoft and Google are on a charge to grow their subscriber bases, especially in the collaboration market.
Of the various SaaS offerings in the market, enterprise resource planning (ERP) grew the most during the quarter, about 40% year-over-year, according to the report. That part of the market is dominated by SAP, Oracle and Infor.
Collaboration grew a little more than 30% year-over-year, with Microsoft, Cisco and Google as the top players. CRM grew at a more modest 20% rate, and Salesforce, Microsoft and Zendesk ranked as the top vendors.
— Scott Ferguson, Editor, Enterprise Cloud. Follow him on Twitter @sferguson_LR.
---
CALLING ALL CLOUD, NFV AND SDN COMPANIES: Make sure your company and services are listed free of charge at Virtuapedia, the comprehensive set of searchable databases covering the companies, products, industry organizations and people that are directly involved in defining and shaping the virtualization industry.
---