Microsoft and Accenture are partnering on a blockchain initiative to build digital identifications for 1.1 billion people as part of the United Nation's ID 2020 program.
The two companies unveiled a prototype of this ID systems on Monday, June 19. Accenture built the blockchain, and Microsoft will host its within its Azure public cloud.
The prototype Accenture and Microsoft built allows the user to share his or her information with another person or organization if they choose. Since it's built on blockchain technology there is no central authority, and the trust is built by using multiple parties. In addition, the prototype does not store any information, and users can grant access to their information within third-party, "off-chain" systems.
In addition, Accenture used its Unique Identity Service Platform to help manage biometrics such as fingerprints and iris scans as part of the prototype.
The goal of the UN's ID 2020 program is to provide identification to 1.1 billion people across the globe. The program is a public-private partnership that is part of the UN's 2030 Sustainable Development Goal, which looks to provide legal IDs for every person living on Earth.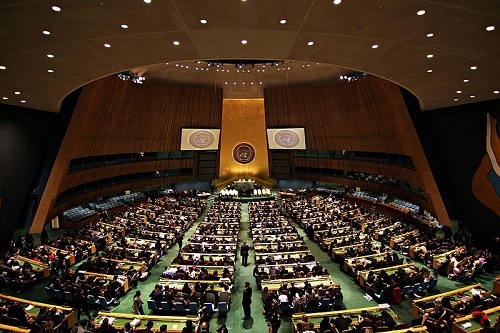 By using blockchain as part of the prototype, Accenture and Microsoft are looking to offer IDs to millions of refugees around the world who lack legal paperwork, or have lost their identification and other records when fleeing war zones and other trouble areas.
"We believe that identity is one of the most important needs in international development and an area where Microsoft and the private sector are uniquely positioned to contribute," Yorke Rhodes, global business strategist at Microsoft, wrote in a statement.
---
M&A activity is turning the cloud upside down. Find out what you need to know in our special report: Mergers, Acquisitions & IPOs are Rocking the Cloud.
---
While blockchain has mostly found a home in the financial industry, including its ability to secure cryptocurrency such as Bitcoin, large tech companies are looking to expand the technology into other fields.
One of the reasons that blockchain remains intriguing is its ability to secure data in a decentralized manner. Unlike a traditional federated database system with different databases from different vendors trying to communicate with one another, blockchain essentially creates different "blocks" of information that link together in a chain of transactions, where each transaction is time-stamped and encrypted. This creates trust among the different parties: No one party can make a change to a document without consent from the others.
IBM, along with AIG, recently announced that they completed a pilot program to use blockchain to secure international insurance and risk documents that travel from country to country. Big Blue has started experimenting with blockchain in healthcare, including as a way to secure patient reords. (See IBM, FDA Look to Blockchain to Secure Health Records.)
Microsoft and Accenture are demonstrating the blockchain prototype at ID2020 Summit, which is taking place this week at the UN.
Related posts:
— Scott Ferguson, Editor, Enterprise Cloud News. Follow him on Twitter @sferguson_LR.