Liberty Mutual Aspires to Be 'Software Company That Sells Insurance'

Comment (11)
Liberty Mutual, a 100-year-old insurance company, is jumping into the cloud, leveraging Cloud Foundry and agile methodologies to transform the technology it uses to deliver software and services to customers and employees.
The problem Liberty Mutual faces is familiar to any enterprise: Developing solutions took too long. Prior to making the transition to the cloud, the company needed months to spec a solution, then a year or more to develop it and bring it back. By that time, the solution wasn't what the users needed, Mojgan Lefebvre, Liberty Mutual senior vice president and CIO for global speciality, said. Lefebvre delivered a keynote presentation at Cloud Foundry Summit in Santa Clara, Calif., last week.
"Most of the time [development] took longer, was more expensive and didn't really do what they thought they were getting," Lefebvre said.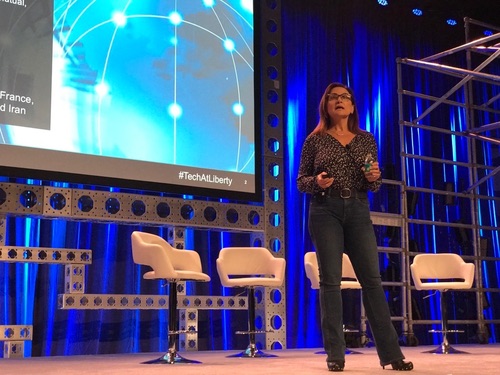 Customers and users demand more. They're also doing business with Amazon, Airbnb and other cloud businesses, and expect that standard of ease of use and responsiveness from enterprise IT, Lefebvre said.
She echoed a statement by tech investor and Internet pioneer Marc Andreessen, who said, "Software is eating the world." That's certainly true in the insurance market, where competitors such as Lemonade let consumers transact business on their phone in minutes, she said.
"We know that we, too, have to become a software company that sells insurance," Lefebvre said.
As part of transforming IT to meet business needs, Liberty Mutual has several aspirational goals: 60% of workload operating in public cloud, 50% of apps releasing code to production daily and 75% of staff writing code, she said.
As of now, only 5% to 10% of the workload is in the cloud, and at most 50% of the staff writes code, with others doing documentation, requirements gathering, project management and operations, Lefebvre said.
To achieve change, Liberty Mutual adopted a "transform by doing" strategy, she said. Building on the cloud became the default, she said.
For example, Liberty Mutual's Australian business wanted to launch into the Australian accident and health market, a potential $240 million opportunity. That business looked to IT to build an end-to-end underwriting portal for independent brokers, with only six months to spec out the problem and build it, Lefebvre said.
First, Liberty Mutual looked at vendor solutions. "The brokers hated everything that's out there," she said. Vendor solutions would have required longer than six months and too much expense.
Building on legacy wasn't practical either, Lefebvre said.
Liberty Mutual worked with Cloud Foundry vendors Pivotal Software in Sydney, Australia, to coordinate with brokers on their needs. "This was the first time our developers were directly talking to end customers. I can tell the energy they got from that is phenomenal," she said.
Working with Pivotal, Liberty Mutual had a working prototype in four months, working with feedback from internal underwriters and friendly brokers, Lefebvre said. Within six months, the portal was ready to go to brokers.
The portal proved successful, receiving 200 quotes and added 60 policies to the system within its first month of operations, she said.
---
Keep up with the latest enterprise cloud news and insights. Sign up for the weekly Enterprise Cloud News newsletter.
---
"With every opportunity that came our way, we would build it on the cloud unless we proved somehow we could not do that. And we have yet to encounter that situation, Lefebvre said.
Liberty Mutual previously used a private cloud running VMware to cut costs and increase agility for developers. (See Liberty Mutual: Cloud Reins in Costs of 'Exponential' Growth.)
Cloud is making inroads into the insurance industry. IBM and AIG recently completed a "smart contract" pilot using blockchain technology in the cloud. (See IBM, AIG Bringing Blockchain to Insurance Industry.)
And IBM worked with insurer Chubb to move its mainframe development and testing to IBM Cloud. (See Mainframe Cloud? That's Nuts!)
Related posts:
— Mitch Wagner
Editor, Enterprise Cloud News
---
CALLING ALL CLOUD, NFV AND SDN COMPANIES: Make sure your company and services are listed free of charge at Virtuapedia, the comprehensive set of searchable databases covering the companies, products, industry organizations and people that are directly involved in defining and shaping the virtualization industry.
---