IBM CEO Ginni Rometty credited her mother, grandmother, and great-grandmother for building a foundation for her professional success. And the company's century-plus record of diversity and inclusion was also a big help, the IBM boss said.
Rometty spoke in an on-stage conversation billed as a "fireside chat" with Salesforce CEO Marc Benioff at the Salesforce.com Inc. Dreamforce conference in San Francisco this month. Benioff asked the IBM Corp. (NYSE: IBM) boss why she thought some people succeed and some "drop off."
Rometty replied by quoting former Texas Governor Ann Richards: "It's passion and perseverance when anyone else would have given up." She also quoted Thomas Edison: "Many of life's failures are people who gave up right before they would have become successful."
Successful people need to be "passionate," she said, which is why she switched from the auto industry at the start of her career, to tech.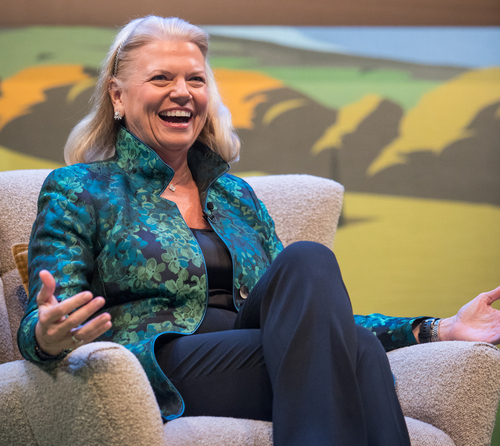 ---
Keep up with the latest enterprise cloud news and insights. Sign up for the weekly Enterprise Cloud News newsletter.
---
"Growth and comfort -- they will never coexist. You have to get comfortable with being uncomfortable," she said.
Benioff and Rometty spoke for less than an hour, but they covered a lot of ground. They talked about how to keep a century-old company innovative and successful, as well as the cloud and artificial intelligence. Read about that here: IBM CEO Ginni Rometty: Darn Agile for a 106-Year-Old.
Rometty said the preceding three generations of women in her family set examples for her.
"That passion comes from my mother, my grandmother, my great grandmother," Rometty said. "I had wonderful women in my life. My great-grandmother came from Russia and she was a cleaning lady at the Wrigley Building in Chicago.
"Every year for Christmas we got gum. I still have a little tin," Rometty said, adding, "She worked like a god so we could have something."
Rometty's grandmother made lampshades and had a store after Rometty's grandfather died. "She was determined to take care of herself," Rometty said. Rometty's grandmother worked until midnight.
"I don't know how many of you had your prom dresses sewed by your grandmother," Rometty asked the Dreamforce audience. Rometty's grandmother taught Rometty how to sew.
Rometty's father left when Rometty was 16. Rometty's mother had four children and no money. "She never complained. We never saw her cry," Rometty said. Rometty's mother returned to school. "We had to go on food stamps for a while, and that's what I believe social programs are for -- to bridge people," Rometty said.
Rometty's mother "had a very happy ending." She went on to become administrator at Rush Presbyterian in Chicago, at the sleep clinic.
"Not that I sleep much," Rometty said. Her brothers and sisters are also successful, which comes from Rometty's mother's example, the IBM CEO said.
"It comes from what she taught us: never let someone else define who you are," Rometty said. "Only you choose you define who you are, what you believe in, and what you go for, I think that's the essence of it of it."
She added, "It's true for a company too -- don't let someone else define who you are. Only you define who you are."
Next page: Retaining Women