Google Nabs Former Cloud Holdout Etsy

Comment (6)
Crafts bazaar Etsy, which once proclaimed the cloud was simply not suitable for its business, has apparently changed its mind, signing on with Google Cloud as its public cloud provider.
Etsy selected Google Cloud to support global services because the two companies share an engineering culture, and because Google provides superior infrastructure and sophistication in areas such machine learning and big data, Etsy said in a statement Thursday.
And it doesn't hurt that both Google and Etsy compete against Amazon.com Inc. (Nasdaq: AMZN) -- Google for cloud services and Etsy in retail.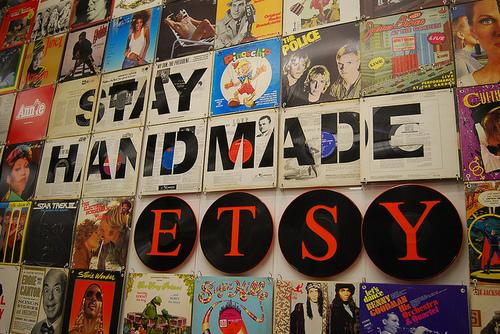 Etsy, founded in 2005 and headquartered in Brooklyn, sees the two-year transition to Google Cloud as a means of "growing the core marketplace, prioritizing the buyer and seller experience and increasing the pace of launching new features," the company said.
Etsy cites the two companies' shared commitment to environmental sustainability, with both companies committed to reaching 100% renewable energy for all operations.
The shift to the cloud is an about-face for Etsy. In a 2015 interview, John Allspaw, then Etsy senior vice president of technical operations, said the cloud "doesn't make sense" for the company, with experts on staff that can use bare metal efficiently on its own hardware rather than shared hardware. The company had used Amazon Web Services Inc. for data analytics and still used AWS S3 for image storing as in 2015.

But that was then. Etsy got a new CEO in May, with a difficult goal of putting the company on a businesslike footing while retaining its hipster roots.
Etsy named Mike Fisher as chief technology officer in July. Fisher said several weeks ago that the company was looking at cloud and microservices.
The move to Google comes as retailers, including Etsy, get nervous about Amazon. Amazon launched its own Handmade Gift Shop, competing with Etsy, in October.
Target is reportedly looking to scale back use of Amazon Web Services. (See Is Target Looking to Cut Ties With AWS? and Target Looks to Open Source to Hit Bullseye.)
And Kroger is using Google and Microsoft clouds to avoid Amazon.
Amazon competitor Walmart has invested extensively in private cloud and open source. (See OpenStack: Small Pond, but the Big Fish Love It, How Walmart Builds Open Source Culture .
For grocery chains -- and big retailers with grocery businesses, like Target -- Amazon turned up the heat with its August purchase of Whole Foods. (See Amazon Steals Big Microsoft Customer With Whole Foods Purchase.)
Etsy's transition to Google Cloud is reminiscent of a similar announcement by Evernote about a year ago. Evernote and Etsy are in different businesses, but they both invested heavily in IT infrastructure for doing business on the Internet, and went to Google Cloud to increase efficiency, reduce the overhead of maintaining infrastructure, take advantage of machine learning, and focus more on user-facing capabilities. (See Evernote Gives Itself High Fives, Completes Migration to Google Cloud.)
Related posts:
— Mitch Wagner




Editor, Enterprise Cloud News