Google Cloud Spanner, the company's in-house developed, globally distributed database, is getting several improvements that include near-perfect availability, as well as multi-region support across the globe.
The improvements to Cloud Spanner were detailed in a November 14 blog post written by Deepti Srivastava, a Google product manager. The search giant's database-as-a-service (DBaaS) entered general availability earlier this year after beta testing. (See AWS, Despite Slowdown, Reigns Over Cloud Market – Report.)
With the improvements, Google (Nasdaq: GOOG) is looking to offer 99.999% uptime as part of the revised service-level agreement (SLA) with customers. This, according to Srivastava, equates to about five minutes or less of downtime each year.
At the same time, Google is offering multi-regional support for Cloud Spanner. Since the database service can now be replicated across any number of regions, it can provide lower latency and better performance for the applications built around it.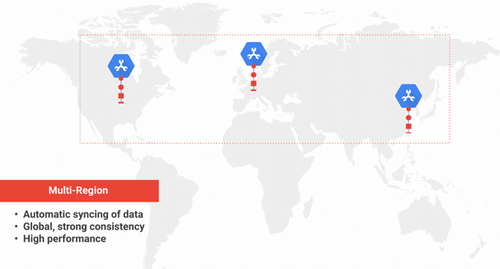 In the post, Srivastava writes:
Cloud Spanner is the first and only enterprise-grade, globally distributed and strongly consistent database service built specifically for the cloud that combines the benefits and familiarity of relational database semantics with non-relational scale and performance. It now supports a wider range of application workloads, from a single node in a single region to massive instances that span regions and continents. At any scale, Cloud Spanner behaves the same, delivering a single database experience.
When Google released Cloud Spanner, the company noted that it looked to combine the best of two different worlds. There's the transactional capabilities found in traditional relational databases, combined with the flexibility found in more modern NoSQL databases.
Google has found some traction in the database marketplace for Cloud Spanner, and Tuesday's blog post announced that Evernote Corp. along with Mixpanel, a business analytics service, are both using the company's DBaaS for different types of workloads.
---
Keep up with the latest enterprise cloud news and insights. Sign up for the weekly Enterprise Cloud News newsletter.
---
With the addition of multi-region support, Google can place Cloud Spanner closer to its customers, which should then improve the performance of the applications that the database is supporting.
Google, however, is not the only company looking to move database services to the cloud.
At about the same time Google announced Cloud Spanner, Microsoft Corp. (Nasdaq: MSFT) unveiled a public version of its own DBaaS platform called Azure Cosmos DB, which is also globally distributed. Much like Google, Redmond had been using an internal version of this database before rolling out a general availability. (See Microsoft Azure Beefs Up Cloud-Based Database Support.)
Microsoft is positioning Azure Cosmos DB for developers who want to create Internet of Things or artificial intelligence applications.
Not to be outdone, Amazon Web Services Inc. announced a beta version of a PostgreSQL-compatible with its Aurora database earlier this year. (See AWS CTO Unleashes Torrent of Developer Features.)
Related posts:
— Scott Ferguson, Editor, Enterprise Cloud News. Follow him on Twitter @sferguson_LR.