Gap's Tech Motto: 'Change or Die'
SAN FRANCISCO – Open Networking User Group Spring 2017 – Gap Inc. is looking to technology transformation to thrive in the retail sector, where businesses are dying out like dinosaurs after the comet hit.
"Every day you hear about another retail company closing its store. Or you see a picture of a once-thriving mall looking like a ghost town," Rathi Murthy, senior vice president and CTO of Gap Inc., told attendees here on Tuesday. "In the retail sector, we are faced with a tremendous opportunity to embrace this change or become irrelevant." That's true for every industry, she said. And technology will enable that change. (See Target Looks to Open Source to Hit Bullseye.)
Gap Inc. has experience with transformation. Founded with a single store in San Francisco in 1969, Gap Inc. created the category of specialty retail. The company did it again in 1997, launching an online store. Founder Don Fisher had a slogan: "Change or die," Murthy said.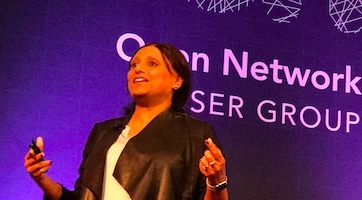 Nearly 50 years after its founding, Gap Inc. has 3,300 company operated stores and six brands, including Old Navy and Banana Republic, operating in more than 90 countries, with 15 websites. It operates in mobile, brick-and-mortar, online and cloud, Murthy said.
The company seems to be treading water in a market where its peers and competitors are drowning. It closed hundreds of stores, but sales are up slightly.
Gap looks to technology to manage its demand, as well as its supply chain. On the demand side, Gap sees variance by season and region. Clothing inventory in stores needs to change regionally in most places, but t-shirts may continue to sell well in Florida, even in winter. Regionally, China is even more of an early technology adopter than the US, Murthy said.
Technology needs to scale and also provides a platform to rapidly innovate, to let businesses experiment with new technologies while providing reliability and stability across platforms. That's difficult, Murthy says.
And Gap needs to marry legacy and new technologies.
Murthy outlined a vision that's common in the retail industry, of providing a unified shopping experience across channels. Imagine, she said, you are shopping for shirts online and abandon your shopping cart. Later, while you're passing a store, you get a message on your mobile device which reminds you of your shopping expedition. You go into the store and the shirts are available for you to try on, along with recommendations of complementary products.
---
What are the hottest jobs in the cloud? Get our special report to find out: 
Cloud Skills: What's Hot?
---
On the supply side, Gap needs to start with planning for seasons, styles, designs, pricing and location. It buys and sources materials from vendors and makes sure inventory is stocked and sold in the right stores. "It's all driven by technology," she said.
Gap is adopting a cloud-first strategy, and looks to SD-WAN to connect to cloud applications, Vismay Thakkar, Gap senior director of IT, said in a Wednesday presentation.
"SD-WAN comes to the rescue," he said. SD-WAN doesn't just provide a cost-effective solution; it also empowers business by putting features in stores, allowing engineers to roll out patches quickly and providing real-time visibility into operations.
Related posts:
— Mitch Wagner
Editor, Enterprise Cloud News
PARTNER PERSPECTIVES
- content from our sponsors