Evernote founder Stepan Pachikov is a Russian emigre who grew up in the USSR police state, and now splits his time between Silicon Valley and New York. Pachikov developed the handwriting engine in the Apple Newton and pioneered virtual reality.
Current Evernote CEO Chris O'Neill writes:
In 2002, Stepan first thought of creating Evernote because he was a smart guy with a terrible memory. He dreamed of a way to make a copy of your entire brain, capturing information and thoughts at the speed at which we think.
Now Pachikov, who now suffers from Parkinson's Disease, dreams of immortality by uploading all memories to artificial intelligence.
It's an intriguing idea -- today's dreams of mind uploading rely on magical brain scanning. But what if a future AI could just sweep up all the information you have on your PC and in various clouds -- all your emails and photos and text messages, all your Facebook interactions and Instagrams -- everything -- and reassemble all of that into a digital you? Sure, it would only be a simulation of you. But you are now only a simulation of the person you were ten years ago.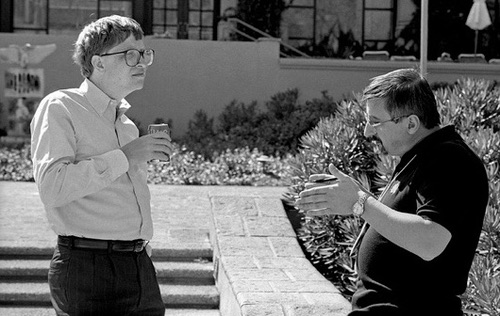 I use Evernote every day.
Evernote published this profile of Pachikov: On Preserving Human Memory: Evernote Founder's Impossible Mission:
On the morning of September 11, 2001, Stepan Pachikov gazed out of the window of his Manhattan apartment and beheld a horror. He was living, as he does now, on the 44th floor of a sprawling West Side apartment complex, his ever-present camera trained on the skyline, giving him a bird's eye view of the terror attack that was about to rock the world. He watched as a jumbo jet careened toward the second tower of the World Trade Center, his finger on the shutter. At the moment of impact, he responded instinctively. He pushed the button.
It's not a surprise that Pachikov's natural response to such an event would be to preserve the memory. As the inventor and founder of Evernote, Pachikov's life work has been the human memory, untangling personal thoughts from the greater narrative of history, and then putting the particles back together again for future generations. It's an obsession that goes back to his youth, before the collapse of the Soviet Union. Though he was at the forefront of the Information Age ushered in by the personal computer, Pachikov was sharply aware of another revolution in his midst. In the late 1970s and early 1980s, the Soviet culture he had grown up with was deteriorating. As a lifelong fan of culture, history, and the arts, Pachikov knew that without a way to preserve memories, entire cultures could evaporate. Pachikov saw computers as a way to save those memories
Related posts:
— Mitch Wagner
Editor, Enterprise Cloud News