Deluxe Corp. Checks In With Private Cloud

Comment (18)
For check printers, the writing is on the wall. People are still writing plenty of checks, but less than they used to. Like typewriter repair shops and vinyl record stores, the business of printing paper checks is a good one to get out of.
That's put pressure on Deluxe Corp., of Shoreview, Minn. "We were at one time the country's largest check printer," Brad Skeel, senior manager, enterprise cloud operations and engineering, tells Enterprise Cloud News. Over the last ten years, the billion-dollar company has been transforming to providing marketing and other services to small businesses and financial institutions.
Through a series of acquisitions and organic growth, Deluxe provides logo design, website and email hosting, search engine optimization, email marketing and more -- "all the kinds of services you can need if you're a small business owner," Skeel says.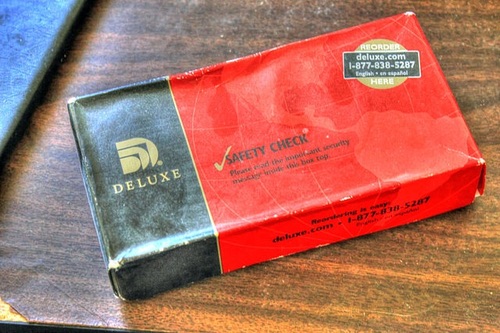 Deluxe offers big data analytics to help banks with customer retention and providing additional banking services to their customers. And Deluxe has a direct-to-consumer business as well: They still print checks.
To power its ongoing transformation, Deluxe uses a private cloud spanning two data centers, running VMWare NSX network virtualization and the VMware vRealize Suite for cloud management. Deluxe uses Hitachi Data Systems to provide hardware.
Deluxe chose VMware Inc. (NYSE: VMW) both for security and flexibility -- it wants the ability to extend into the public cloud which VMware provides, Skeel says.
With private cloud, Deluxe has saved 30-40% both on productivity and hardware costs. The company pays for hardware on demand, rather than purchasing outright, for cost savings.
Deluxe started moving to the cloud in about May 2014. "That's when we started cloud discussions in earnest," Skeel says.
Deluxe met with EMC Corp. (NYSE: EMC), and reviewed multiple cloud management platforms and hypervisor options. It was already a VMware shop, but hadn't decided on VMware as the cloud platform. The company looked at OpenStack, and other options as well. "We felt after doing the evaluation that the VMware stack gave us the best leg up to start building a true cloud, without having to do a lot of programming," Skeel says.
Deluxe launched its private cloud in January 2015. Since then, it's been migrating workloads and transforming existing technology to run on the cloud. "Given our age, we have lots of technical debt. We're figuring out how to retire that technical debt, and figuring out how to service the business and its needs," Skeel says.
Skeel is using "technical debt" in the same way other IT executives refer to "legacy." In Deluxe's case, that's old Sun Microsystems servers running old versions of the Solaris operating system, "practically every flavor of Oracle," mainframes, and IBM servers running the AIX operating systems, Skeel says. Deluxe is working to get those workloads onto platforms supported by the cloud.
In addition to cost savings, the cloud migration has paid off in agility. Getting a new virtual machine running for business used to take four to six weeks; now it's under a week, Skeel says. "I'll be happy when it's fully automated and we can deliver workloads in minutes," he says.
Deluxe is working to embrace DevOps, "getting incrementally closer to that kind of style," Skeel says.
Looking back, Skeel says the company's biggest challenge has been getting support for the platform. "We went all in building the cloud and could have spent more time drumming up and getting people excited about it," he says. "We stood it up and said, 'We're ready to have people migrate in,' and they said, 'Why should I do this? What's in it for me?'"
Deluxe employees initially resisted the migration to cloud, and required a lot of education, internal seminars, lunch-and-learns. The work got easier as the cloud began to show positive results, and business began to support it, Skeel said. "The message spread that we get things done fast," Skeel said.
---
Keep up with the latest enterprise cloud news and insights. Sign up for the weekly Enterprise Cloud News newsletter.
---
Deluxe's motivation, of increasing agility while reducing cost, is key to many companies' move to the cloud. Recently, we've seen Liberty Mutual, a 100-year-old insurance company, undertake a similar transition, using Cloud Foundry and "agile" methodologies. (See Liberty Mutual Aspires to Be 'Software Company That Sells Insurance'.)
And Comcast is using a private cloud based on Cloud Foundry to turn around some of the worst customer satisfaction scores received by any US company, while IBM is working with Lloyd's Banking Group to move that financial institution to a private cloud. (See Comcast Looks to Beat Customer Hate With Private Cloud and Lloyds Inks £1.3B Cloud Deal With IBM.)
Related posts:
— Mitch Wagner
Editor, Enterprise Cloud News
---
CALLING ALL CLOUD, NFV AND SDN COMPANIES: Make sure your company and services are listed free of charge at Virtuapedia, the comprehensive set of searchable databases covering the companies, products, industry organizations and people that are directly involved in defining and shaping the virtualization industry.
---