Cloud Foundry Takes Diversity 'Exceptionally Seriously'
Kyla McMullen says she wanted to turn herself into a white boy when she was a little African-American girl fascinated by computers.
McMullen, now an assistant professor of computer information science and engineering at the University of Florida, said as a girl she felt out of place in computer classes because she didn't see people who looked like her.
Faced with a computer class she really wanted to get into, she struggled with the decision.
"I was in my head trying to figure out how to be a white boy so I can take this class," she quipped, speaking on a panel about women in tech at the Cloud Foundry Summit in Santa Clara this week.
Then a new teacher joined McMullen's school, a young black man with a fresh masters in computer science, who could talk to McMullen about both basketball and logic. He was not much older than McMullen herself.
"He was like my big brother," McMullen said. "I could see myself following in his footsteps."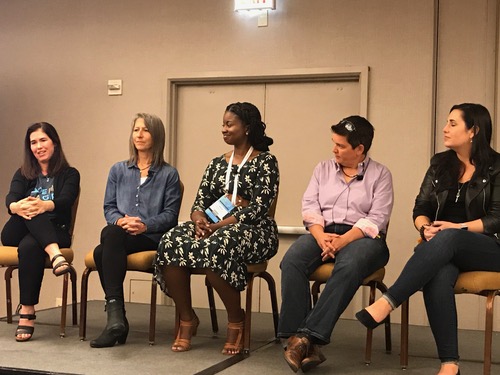 As an assistant professor in a field that is still heavily male-dominated, McMullen is now paving the way for all women. In fact, in an industry that often gives more lip service than action to diversity, the Cloud Foundry Summit was notable for its prominent representation of women and people of color.
Panels at tech conferences often have no female representation at all, but the Cloud Foundry Summit was an exception. Over half of the speakers at the summit were women, Abby Kearns, executive director of the Cloud Foundry Foundation, tells Enterprise Cloud News.
"We take diversity and inclusivity exceptionally serious as as foundation," she said.
The ratio of women-identified speakers was more than double last year, and 11% of the conference attendees this year were women, said Caitlyn O'Connell, Cloud Foundry Foundation marketing and content strategist, kicking off the panel discussion.
"Those numbers may sound small but in the tech industry they're pretty sizable," she said.
---
Keep up with the latest enterprise cloud news and insights. Sign up for the weekly Enterprise Cloud News newsletter.
---
Women represent less than 20% of tech, and the representation of people of color is "more unsettling" at 2%, Kearns says.
Part of the problem with building diversity is keeping women in tech careers.
Women drop out of tech careers at a 50% higher rate than men do, said Karen Holtzblatt, founder of the Women in Tech Retention League and CEO of InContext Design. To find out why, her organization studied why women stay in tech careers. Most importantly, "Women stay because they are in a tight cohesive group where they're doing work that matters," she said. Women need to be pushed to advance their careers; they also need support, and they need to see role models who are just a little bit ahead of where they are.
Related stories:
— Mitch Wagner
Editor, Enterprise Cloud News