Cisco Revenue Decline Continues Into Q4
Even with in-line results for its financial fourth quarter of 2017, Cisco's revenue declined continued as the company embraces the cloud, security, as well as its "network intuitive" strategy announced a few weeks ago.
When Cisco posted its results on Wednesday, it marked the seventh consecutive quarter of revenue decline at the company. Its financial fourth quarter ended July 29.
In his comments to analysts, CEO Chuck Robbins noted that he believes that Cisco continues to make progress in its goals of moving away from a model based on hardware and networking gear, to one that offers cloud, security and other services to customers. At the same time, the company wants to build out more modern networks that can support technologies such as artificial intelligence and the Internet of Things (IoT).
"In June, we announced a new era of networking with the launch of the network intuitive. This is an example of the industry-leading innovation that Cisco is providing to its customers," Robbins said. "Intuitive is a new intent-based network that is a fully integrated, intuitive system that is designed to anticipate actions, stop security threats in their tracks and to evolve and learn over time. We are applying machine learning and advanced analytics to operate and define the network."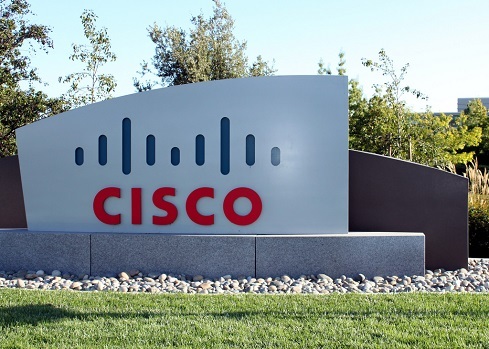 Robbins noted that in the last four weeks, the company has seen a significant uptick in customers interested in and willing to buy the gear that support this new network.
For its fiscal fourth quarter, Cisco reported revenue of $12.1 billion, a 4% year-over-year decline. Non-GAAP net income totaled $3.1 billion or $0.61 per share. GAAP income showed net income of $2.4 billion or $0.48 per share.
Wall Street analysts polled by Thomson Reuters were calling for profits of $0.61 per share and revenue of $12.06 billion. During the same quarter in 2016, Cisco posted profits of $0.61 per share with revenue of $12.64 billion.
For its fiscal 2017, Cisco posted non-GAAP earning per share of $2.39. GAAP earning totaled $1.90 per share. Analysts were calling for earnings for $2.38 per share.
For the year, Cisco's revenue totaled $48 billion, a year-over-year decrease of 2%.
Looking ahead to the first financial quarter of 2018, Cisco is predicting a year-over-year decline of between 1% and 3%, with non-GAAP earnings per share of $0.59 to $0.61. GAAP earnings per share should total between $0.48 and $0.53.
---
Keep up with the latest enterprise cloud news and insights. Sign up for the weekly Enterprise Cloud News newsletter.
---
Looking at the specifics of the fourth quarter, Cisco saw its product revenues decline 5%, with service revenue increasing a modest 1%.
In terms of products, the company's wireless offerings increased 5% and security rose by 3%. However, routing and switching revenue -- the once bread-and-butter of Cisco -- declined 9% each. Service provider video, data center and collaboration all declined as well.
However, Robbins emphasized that revenue from recurring offers increased 31% during the quarter, and this is from customers switching to subscriptions models when they buy software and it is line with the company's plans to offer more cloud-based services.
During the call on August 16, Robbins was asked about the declining switching business. He noted that Cisco had anticipated this, especially as it prepared to release the network intuitive platform and the company already has about 200 customers interested in its Catalyst 9000 switches, as well as the software subscriptions that sit on top. These switches are new systems based on programmable ASICs, which form the backbone of the network intuitive. (See Cisco Declares a New Era of Intent-Based Networking.)
"We had a lot of conversations over the last two years if we can drive a subscription business on our core switching platform and what we can see are early indications that we can do that," Robbins said.
Related posts:
— Scott Ferguson, Editor, Enterprise Cloud News. Follow him on Twitter @sferguson_LR.