NEW YORK CITY -- When BMC went private in 2013 in a $6.9 billion private equity deal, it was seen as a chance for the company to reinvent itself and its enterprise software business as more and more companies moved to the cloud and changed their preference to software-as-a-service (SaaS).
On Thursday at its Exchange show here, it was time to see if BMC's bet paid off.
During a day-long presentation, CEO Peter Leav and other executives laid out a long-term plan that includes embracing multi-cloud deployments that customers are investing in, which includes delivering more of its software through SaaS platforms, as well as investments in DevOps and machine learning.
At the same time, BMC struck a new deal with Amazon Web Services to support its applications on Amazon's public cloud to help reach additional customers. The agreement also allows AWS to offer more enterprise-grade software at a time when the company is competing more with Microsoft and Google for business users.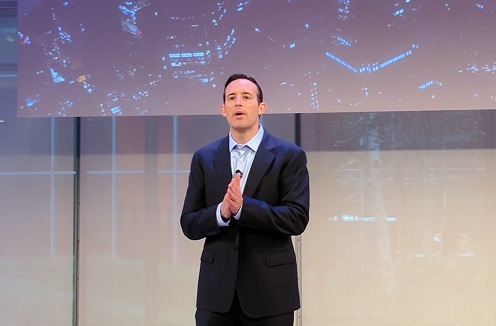 "This is the thesis of why we went private: The world was changing very quickly through the explosion of public cloud, the explosion of new technologies and processes, such as DevOps, and the big players were never going to get there," Bill Berutti, president of Enterprise Solutions at BMC, told Enterprise Cloud News during the October 12 event.
"Public companies really struggle with a 90-day treadmill … What we wanted to do was take it private and reinvent IT operations management and IT services management given all those changing factors," Berutti added. "Our goal is to be the enabling technology and let our customers take advantage of the change toward public cloud and SaaS delivered services, as well as a fast-paced DevOps process, but still have all the control you need."
The plan is a tricky one for BMC, which still has many customers working with on-premises applications. However, as more and more apps move to the cloud, and customers want that convenience, Berutti said that the company has to offe more of its services through a public cloud provider such as AWS, or as a SaaS platform.
It's also the way BMC views the term "multi-cloud."
In Berutti's version, multi-cloud includes public cloud providers such as AWS and Microsoft Azure, as well as customer's own private cloud. It also involves traditional, on-premises data center that act as cloud since much of the hardware is virtualized.
With that focus, BMC is also investing more in machine learning and other technologies to help automate more and more of the process as companies go digital.
A look at some of the platforms and offerings announced on Thursday highlights this trend:
TrueSight Cloud Cost Control is a cost management platform that measures current cloud usages across different platforms and can then calculate what enterprises will spend in the future. The goal is to give customers insights into what cloud platform is more cost effective when migrating applications.
SecOps Policy Service embeds security and compliance testing into the DevOps cycle. Through APIs, developers can test applications for security without stopping the test and development process.
BMC also announced an agreement with IBM that will combine the company's IT Service Management platform with the Watson Conversation and Discovery offering. The goal is to use cognitive computing and machine learning to automate part of the service process through use of chatbots that can help route service calls and perform other tasks.
At the show, ECN spoke with Chris Adams, the COO of Park Place Technologies, a Cleveland-based company which services and supports legacy hardware systems from IBM, Hewlett Packard Enterprise, Dell, NetApp and others.
---
Keep up with the latest enterprise cloud news and insights. Sign up for the weekly Enterprise Cloud News newsletter.
---
Park Place has been an BMC customer for several years, and Adams said the work around machine learning is what's most interesting to him and his firm, especially in helping to automate part of the call center process.
Adams cited TrueSight 11, BMC's AI offering for operations, as something that is helping improve services.
"You have something like TrueSight, which is effective at listening to the telemetry of what the box is broadcasting," Adams said. "One AI could interrupt a lot more data quicker and can make judgment calls that humans can't understand or see because AI can analyze much more data … when they start using that use case of Watson on TrueSight, it's going to improve our analytics exponentially."
Related posts:
— Scott Ferguson, Editor, Enterprise Cloud News. Follow him on Twitter @sferguson_LR.