In the hottest competition since The Bachelor, Amazon said Thursday it has narrowed its list of candidate cities for its second headquarters to 20 finalists in the US and Canada.
The finalists are: Atlanta, Ga.; Austin, Texas; Boston, Mass.; Chicago, Ill.; Columbus, Ohio; Dallas, Texas; Denver, Colo.; Indianapolis, Ind.; Los Angeles; Miami; Montgomery County, Md.; Nashville, Tenn.; Newark, N.J.; New York, N.Y.; Northern Virginia; Philadelphia, Pa.; Pittsburg, Pa; Raleigh, N.C.; Toronto, ON; and Washington, D.C., according to a statement from Amazon.
"In the coming months, Amazon will work with each of the candidate locations to dive deeper into their proposals, request additional information, and evaluate the feasibility of a future partnership that can accommodate the company's hiring plans as well as benefit its employees and the local community," the company says. "Amazon expects to make a decision in 2018."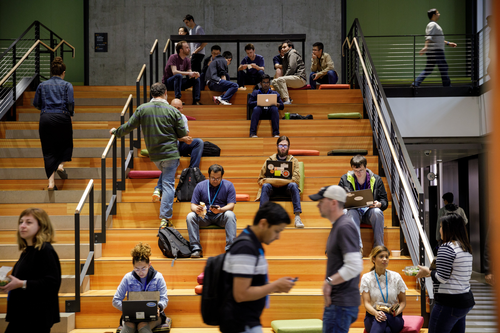 ---
Keep up with the latest enterprise cloud news and insights. Sign up for the weekly Enterprise Cloud News newsletter.
---
The company adds, "Amazon HQ2 will be a complete headquarters for Amazon, not a satellite office." Amazon says it will invest more than $5 billion and grow the second headquarters to up to 50,000 "high-paying jobs." In addition to Amazon's direct hiring and investment, construction and ongoing operation of Amazon HQ2 will create tens of thousands of additional jobs and tens of billions of additional investment in the surrounding community.
Amazon has more than 540,000 employees worldwide.
Amazon launched its search for a second headquarters in September, and received 238 entries.
Candidate cities in the final 20 are concentrated heavily in the US Midwest and Northeast, with only one on the US West Coast, in Los Angeles, and one outside the US, Toronto, Canada. Amazon's current HQ is in Seattle, in the US Northwest.
Clusters include three in the Washington, D.C. area, two in Texas, and two in the New York metropolitan area -- New York, N.Y. and neighboring Newark, N.J.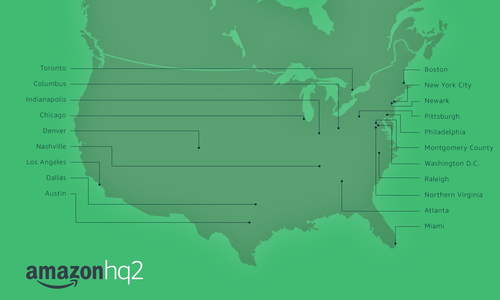 The 19 US candidate locations are split almost evenly along political lines, GeekWire notes -- ten in red states from the 2016 election, nine in blue.
Skeptics said cities were being too generous promising incentives to get Amazon -- or other big businesses -- to relocate there. "In an age where cities and states are starved for resources, often times these efforts at economic development, the costs of tax breaks for the city, will far outweigh whatever benefits come from the number of jobs created," Margaret O'Mara, a University of Washington professor specializing in urban history, told GeekWire.
"Amazon's quest for a second massive corporate base is reminiscent of Boeing's ongoing efforts to ship jobs out of the Seattle area and hold us hostage," Seattle City Council member Kshama Sawant said in a statement in September. "For decades, Boeing executives and billionaire shareholders have carried out systematic economic extortion by pitting cities and states against one another, forcing a race to the bottom for the living standards of workers, and crushing labor unions."
Amazon's search for a second headquarters incited a wave of publicity stunts by cities looking to woo the company, according to the New York Times.
"A business group in Tucson trucked a giant cactus to Amazon in Seattle, and the mayor of Washington buttered up Amazon in a promotional video in which she called it the 'most interesting company in the world,'" the Times says. "An economic development group in Calgary, Alberta, took out an advertisement in The Seattle Times in which it offered to fight a bear for Amazon and spray-painted Seattle sidewalks with a humorous promise to change the city's name to Calmazon or Amagary."
More seriously, New Jersey promised $7 billion in tax incentives to bring Amazon to Newark, according to the Times. And officials in Chicago offered Amazon tax credits to let the company keep about $1.32 billion in income taxes that employees would ordinarily pay to the state, according to a report in the Chicago Reader.
Related posts:
— Mitch Wagner




Editor, Enterprise Cloud News