Can Automation Fix Oracle's Cloud Mojo?
Oracle's cloud platform is growing fast -- really, really fast. But not as fast as before. Oracle is looking to automation to help goose momentum back to its former levels.
Oracle Corp. (Nasdaq: ORCL) on Tuesday introduced the next iteration of its Autonomous Database platform, Autonomous Data Warehouse Cloud, which "uses machine learning to deliver industry leading performance, security capabilities and availability with no human intervention, at half the cost of Amazon Web Services," Oracle said in a press release Tuesday. (See Oracle Launches Autonomous Data Warehouse Cloud.)
Data Warehouse Cloud is a service on Oracle Autonomous Database, a cloud database the company announced late last year, and which became available this year. Autonomous Database is integral to Oracle's transition from traditional, on-premises legacy database vendor to enterprise cloud provider. Oracle claims its "self-driving" capabilities can deliver enhanced productivity, security and performance without the need for database administrators, thus slashing costs.
In particular, Oracle takes aim at Amazon Web Services Inc. , claiming Tuesday that Oracle Autonomous Data Warehouse Cloud costs half of AWS. On other occasions, Oracle has claimed up to tenfold savings over Amazon. Amazon views these claims dubiously. (See Oracle's Ellison: We'll Beat Amazon Cloud Pricing by Half, Upcoming Oracle DB Hits All Buzzwords, Oracle's Ellison: Amazon & SAP Use Our Database Because We're Better, Oracle Expands Cloud Autonomy, Data Centers & SLAs and 'No Facts, Wild Claims & Lots of Bluster'; Amazon Hits Back at Oracle's Ellison.)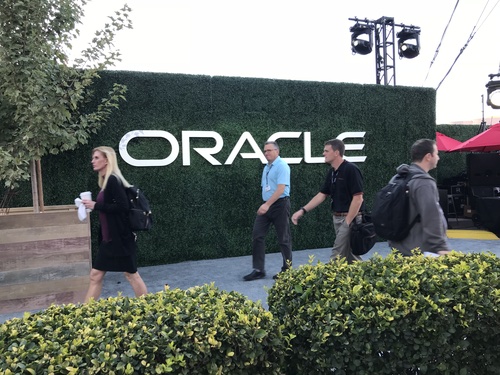 ---
You're invited to attend Light Reading's Big Communications Event  -- the one event that delivers fresh perspective on the rapid transformation of the telecom industry and the road ahead. We'll see you May 14-16 in Austin -- communications service providers get in free!
---
Oracle is developing other services on top of Oracle Database Cloud, including transaction processing; NoSQL database for fast, massive-scale reads and writes, commonly demanded by Internet of Things apps; and Graph Database for network analytics. Oracle says it also plans to deliver autonomous analytics, mobility, application development and integration services on top of its database cloud.
The announcement comes as demand for Oracle cloud services is still exploding -- but not creating as big a bang as previously. (See Oracle Cloud Revenue Leaps 32% to $1.6B.)
Oracle's cloud growth rate has slowed three straight quarters. It was an impressive 32% year-over-year in its quarterly results reported last month, but that's down from 42% the previous quarter and 51% the quarter before that, notes Gary Alexander, writing at Seeking Alpha.
Alexander is upbeat, noting that there are still plenty of opportunities to convert Oracle's existing on-premises customers to the cloud, a point also noted by Oracle executives on last month's earnings call with analysts. Executives said then that only 15% of its customers had made the cloud conversion so far, giving Oracle a lot of room for growth ahead. And the autonomous database, a strategic platform for Oracle, has only been available for weeks.
Overall growth for Oracle, including sales of on-premises technology, is going well -- "revenue is staying within the Oracle ecosystem," Alexander notes. Infrastructure- and platform-as-a-service (IaaS and PaaS) potential growth is particularly promising for long-term growth, he says.
"Oracle is doing OK in SaaS but is nowhere near the leaders in IaaS/PaaS," says John Dinsdale, a chief analyst and research director at Synergy Research Group Inc. , in an email. In SaaS, Oracle is fourth in revenue in cloud providers. "It does well in ERP but the biggest enterprise SaaS market segments are collaboration and CRM, which are dominated by Microsoft and Salesforce respectively. What Oracle has in its favor is an extremely long runway ahead of it as it works to convert its huge base of on-prem customers to a subscription based business model. Overall it has been gaining market share over the last eight quarters."
Dinsdale adds: "In IaaS/PaaS Oracle is making some brave noises but the reality is that it is nowhere near the top five cloud providers (AWS, Microsoft, IBM, Google, Alibaba) and its capex isn't in the right ballpark to help it close that gap. In 2017 Amazon, Microsoft and Google each outspent Oracle by a factor of at least five to one -- and when you boil it all down this is essentially a game of scale." Oracle's small market share had been "creeping upwards, but it has dropped off again in the last two quarters," Dinsdale says.
Unlike other cloud providers, like Google and AWS, Oracle needs to preserve its existing customer base and revenue while transitioning to cloud, which makes that transition trickier, says Ovum Ltd. chief analyst Mike Sapien.
"So I say it is 'yellow' caution time but not really big deal unless [lost momentum] continues into next year," Sapien says.
Ovum principal analyst Roy Illsley is cautiously optimistic for Oracle in the long term. "I do not see Oracle challenging the big earners this year, but in the medium/long-term their plan has merits. If they can get past the financial analysts and their short-term view of success, then as the requirements of enterprise-grade cloud expand so should Oracle's growth, to a point," he says.
Related posts:
— Mitch Wagner




Editor, Enterprise Cloud, Light Reading
PARTNER PERSPECTIVES
- content from our sponsors