As Amazon searches for a city in which to locate its second headquarters, data analytics provider Looker claims that crunching 2015 numbers from the US Census Bureau makes the answer obvious.
Amazon.com Inc. (Nasdaq: AMZN) said last year it plans to open a second headquarters, equal to its existing base in Seattle, and this month it narrowed the candidate list down to 20 locations, including New York, Chicago, Denver, Austin and a couple of locations in the Washington, D.C. suburbs. (See Amazon Taps 20 Locations as Finalists for Second Headquarters.)
In a blog posted Friday, Looker did some simple calculations and made its prediction for where HQ2 will land. The five primary factors, says Looker, are: population density, or whether a city has enough room to handle a large number of new workers; housing vacancy, for whether new and relocated hires will be able to find places to live; diversity, whether the gender and racial distribution will attract outside talent; and educational achievement, whether Amazon will be able to "leverage the existing educated population fo the location."
---
Keep up with the latest enterprise cloud news and insights. Sign up for the weekly Enterprise Cloud News newsletter.
---
Amazon expects that HQ2 will employ 50,000 people, and Looker assumes that will be a mix of an area's existing population and people relocating for jobs. Looker assigns a five-point rating to each location on each criterion, and the winning location scored 24 out of a possible 25 points, with two runners-up each scoring 22 points.
Denver scores best on population density, with the lowest number of people per square mile -- plenty of room for new people. Not surprisingly, both New York, NY, and Washington, DC, are already pretty well jammed up, Looker says.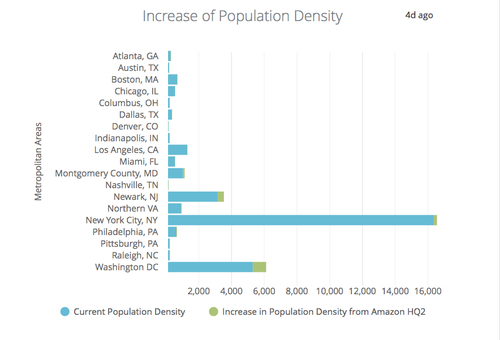 Chicago and Miami score high on available housing. On diversity, New York, NY, and Washington, DC, top the list, while Pittsburgh scores lowest.
Which location was Looker's top pick? Find out here: "The Data Has Spoken. Amazon's HQ2 Should Be In..."
For another perspective, my friend and former colleague Wayne Rash predicts that Amazon will pick one of the several locations on the list in or near Washington, D.C. He cites several reasons, one being proximity to the US's center of power; another being proximity to the nexus of the US fiber network -- nearly all the world's Internet traffic passes through Northern Virginia.
Related posts:
— Mitch Wagner




Editor, Enterprise Cloud News