Cisco's Chuck Robbins will be getting new business cards. Robbins will soon add chairman of the board to his responsibilities, replacing longtime CEO John Chambers.
Chambers, who served as CEO of Cisco Systems Inc. (Nasdaq: CSCO) for 20 years until he was succeeded by Robbins in 2015, won't stand for re-election to the board in December, the company announced Monday. The board will appoint Robbins to serve as chairman when Chambers's term expires at the annual shareholder meeting December 11. On that date, Chambers will be named Chairman Emeritus.
Chambers was named executive chairman in 2015, after stepping aside as CEO, a position he had held since 1995.
Robbins said in an email to the board Wednesday, "It is time for Cisco to move on to its next generation of leadership including at the board and Chairman level and to position this seamlessly for the future. It is also time for me to move on to the next chapter of my life, on both a personal and business level." The email is addressed to Carol Bartz, lead independent director of the board.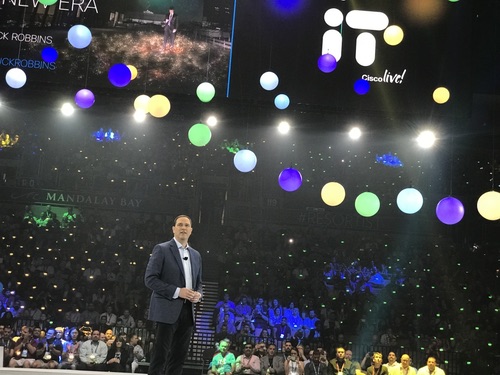 ---
Keep up with the latest enterprise cloud news and insights. Sign up for the weekly Enterprise Cloud News newsletter.
---
Chambers joined Cisco in 1991 as head of sales. During Chambers's time as CEO, he built the company from $1.2 billion annual revenue to nearly $50 billion, according to the company statement.
More recently, Cisco has seen seven straight quarters of revenue decline as the company transitions from selling hardware and networking equipment to cloud, security and other functions offered as services. (See Cisco Revenue Decline Continues Into Q4.)
In June, Cisco announced a new strategic direction: "network intuitive." Rather than configuring networks using arcane tools and command-line syntax, network operators simply tell the network the outcomes they want -- their intent -- and the network configures itself. Robbins said at that time that network intuitive will be needed to keep up with mounting security threats and literally billions of Internet of Things devices coming online; manual configuration simply won't be able to keep up with the growing demands. (See Cisco's 'Network Intuitive': A Risky Transition.)
Related posts:
— Mitch Wagner




Editor, Enterprise Cloud News