Arista is launching software to simplify the complications that cloud migration creates for enterprise networking, extending its virtual router and management software to public, hybrid and private clouds.
The Arista Networks Inc. Any Cloud software platform, announced Wednesday, is designed to reduce operational costs and complexity, with the virtualized Arista vEOS Router, combined with CloudVision network automation and telemetry software, to provide consistent operations, orchestration, security and telemetry across on-premises networks and public clouds.
Enterprises move to the cloud in part to simplify IT operations, but that migration can complicate the networking environment. As soon as enterprises start to need cloud workloads to communicate with each other, that means enterprise network operators have to figure out ways to connect multiple cloud providers' networking APIs and infrastructure together, Jeff Raymond, Arista vice president US products and services, tells Enterprise Cloud News.
"You find yourself actually supporting more platforms than you thought from a networking perspective," Raymond says. "You need to apply a more architectural approach to the network, because not only does it need to scale over time, but it needs to be consistent across cloud platforms."
Any Cloud Platform provides the benefits of extending one system across public and private clouds: zero-touch provisioning, automated change management, real-time telemetry, an analytics engine for historical event correlation and anomaly detection, and visualization apps, Raymond said. The platform enables enterprises to standardize troubleshooting across multiple cloud providers.
The Any Cloud platform is based on Arista's Extensible Operating System (EOS), the software foundation of its data center router hardware. The vEOS Router runs EOS, integrated with cloud provider APIs for seamless deployment, automation, analytics and end-to-end visibility.
Any Cloud incorporates Cloud Tracer to track metrics across the entire hybrid cloud.
Any Cloud is designed to support any pubic or hybrid cloud environment, with initial support for Amazon Web Services Inc. and Microsoft Corp. (Nasdaq: MSFT) Azure, with Google (Nasdaq: GOOG) Cloud Platform, and Oracle Corp. (Nasdaq: ORCL) Cloud Infrastructure to follow.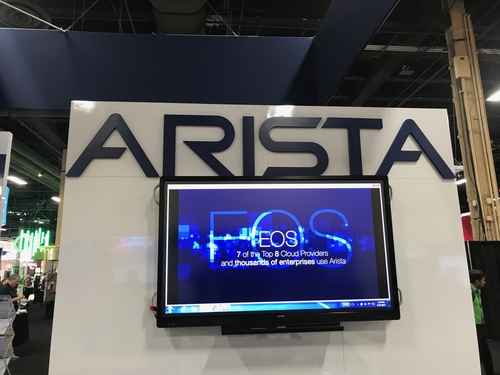 ---
Keep up with the latest enterprise cloud news and insights. Sign up for the weekly Enterprise Cloud News newsletter.
---
Any Cloud also integrates with Equinix Inc. (Nasdaq: EQIX) Cloud Exchange, which provides direct high-performance connections to more than 2,500 cloud providers.
The new components of Arista Any Cloud will be available in the fourth quarter, including vEOS Router for Linux KVM and VMware Inc. (NYSE: VMW) ESX hypervisors, and for the AWS and Azure cloud platforms, with Google, Oracle and other cloud platforms to come. Also in the pipeline: support for Azure Stack, an extension of Azure that runs as an appliance on enterprise premises. (See Microsoft's Azure Stack Creeps Closer to Release.)
Arista's Any Cloud launch follows a similar announcement by Cisco Systems Inc. (Nasdaq: CSCO) last month extending its Application Centric Infrastructure (ACI) software-defined networking to AWS and Google Cloud Platform. (See Cisco Takes Networking Fight to Amazon, Microsoft & Google.)
Arista's technology is different -- and superior -- in that it uses the same network architecture across on-premises and public cloud, Raymond says. ACI runs different networking platforms in public cloud and on-premises, he said.
Also similar to Arista's news, VMware includes its NSX software defined networking in its support for VMware virtual workloads running on AWS and 4,500 other cloud platforms. Raymond noted that vEOS Router runs on VMware virtual machines, and vEOS can provide "the consistent and reliable architecture that NSX can ride on as an overlay. (See Following Amazon Partnership, VMware Is a Cloud Company Now.)
Related posts:
— Mitch Wagner




Editor, Enterprise Cloud News