We're Sorry If We Set Your Car On Fire – Love, Oracle
The alarming email of the week comes from Oracle, warning me that if I received a complimentary car charger from them it might ... um ... set my car on fire.
Here's the email as it appeared to me as I rolled out of bed and checked messages first thing in the morning: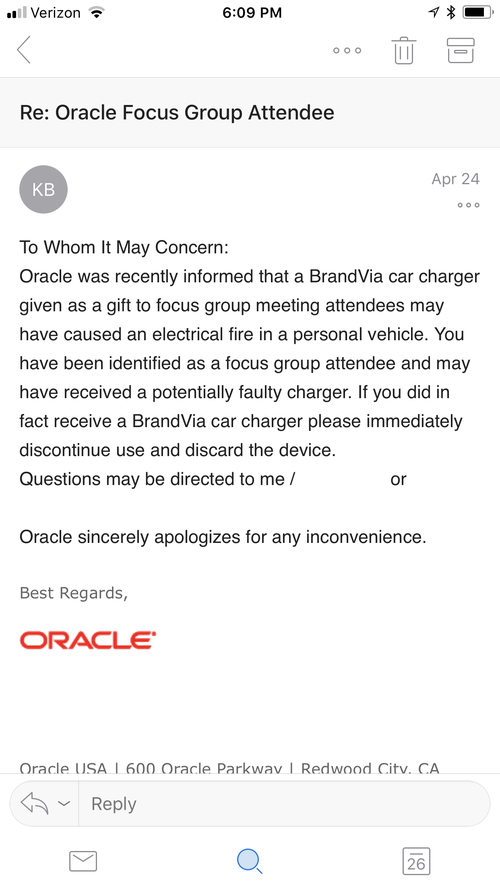 I redacted the name and identifying information of the sender in the image above.
After checking my car to see if it was on fire (it was not), I ran the message by a friend at Oracle who confirmed it's legit.
---
Boost your knowledge of cloud-native software and innovations driving data center transformations! Join us in Austin at the fifth annual Big Communications Event May 14-16. The event is free for communications service providers -- secure your seat today!
---
At first I couldn't figure out why I got the message, because I have never participated in an Oracle focus group, nor have I received a car charger from them.
But then I remembered: I was invited to a focus group at last year's Oracle Open World, or maybe a previous year. I planned to go, figuring I might overhear some candid insight about customer perspective on Oracle. But a conflict came up and I didn't make it. (See Oracle OpenWorld: The View From the Show Floor – & Beyond.)
And a good thing too. Our car is an old beater, but we're rather fond of it.
The next Oracle Open World is in a few months, and I do plan to attend. I won't tell them where I park my car.
— Mitch Wagner




Executive Editor, Light Reading