Salesforce Looks to Set Legacy Free With $6.5B MuleSoft Buy

Comment (0)
Salesforce's $6.5 billion acquisition of MuleSoft, announced Tuesday, is about integrating customer information across all channels, but particularly unlocking that information from legacy systems.
"One of the consistent themes we hear from CEOs is a frustration, if you will, and a yearning to unlock data from legacy systems," Keith Block, Salesforce.com Inc. vice chairman, president and COO, said on a conference call with financial analysts Tuesday afternoon discussing the acquisition. (See Salesforce Buys MuleSoft for $6.5B.)
"Data locked in their legacy systems is holding them back," Block said. By unlocking that data, "they will be able to make smarter, faster decisions," and provide highly differentiated, customized customer experiences. Unlocking that data is essential to digital transformation, he said.
MuleSoft provides the Anypoint platform, for integrating "application networks" connecting legacy, cloud, mobile, Internet of Things and more, in any cloud or on-premises.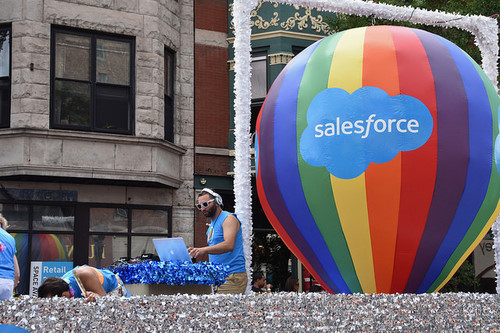 For example, healthcare providers need to be able to deliver personalized care by unlocking data stored in electronic medical records, ERP systems, cloud applications and proprietary systems. For financial services, nearly 90% of IT spending is now focused on compliance, maintenance and operations, leaving little room for innovation. And the US government has been working on modernizing its system for years. Unleashing data in legacy systems could be a significant opportunity for every industry, Block said.
MuleSoft customers include Unilever, Coca-Cola and Mt. Sinai, addressing a $25 to $30 billion market, growing at 25%, Block said.
---
You're invited to attend Light Reading's Big Communications Event  -- the one event that delivers fresh perspective on the rapid transformation of the telecom industry and the road ahead. We'll see you May 14-16 in Austin -- communications service providers get in free!
---
Customers are now spending more than $400 million on custom code to connect legacy apps, Internet of Things and other information sources. "We're trying to speed up -- change the clock speed of digital transformation. That's what it's all about," Greg Schott, MuleSoft CEO, said on the call. "Our mission is to help organizations change and innovate faster, connecting applications, data and devices."
MuleSoft is headquartered in San Francisco. Total revenue was $296.5 million in fiscal 2017, up 58% year-over-year, with a non-GAAP operating loss of $51.7 million, compared with $31.9 million a year earlier.
Customer relationship management drives the acquisition, Bret Taylor, Salesforce President and Chief Operating Officer, said on the analyst call. Salesforce will continue to operate MuleSoft Anypoint application network, and use Anypoint as the basis for a new Salesforce Integration Cloud. Executives on the call were unclear about how Anypoint and the Salesforce Integration Cloud will differ, other than that Anypoint will go through MuleSoft's existing channels and the Salesforce Integration Cloud will go through Salesforce channels.
MuleSoft will continue to provide a vendor-neutral platform for information integration. "Customer transformations almost always involve integrating different systems on premises and in the cloud," Taylor said.
Integrating legacy applications with modern cloud applications is a big challenge for enterprises, and opportunity for vendors. Google bought API management vendor Apigee in 2016, and Red Hat bought 3Scale for API management in that same year. (See $625M Apigee Buy Bolsters Google's Cloud and Red Hat Buys 3Scale for API Management.)
Legacy applications still provide value to enterprises -- they do what they were designed to do -- but they need to be connected to cloud applications for them to remain valuable.
That's why enterprises have greater IT complexity than hypercloud providers, and need to maintain on-premises infrastructure, John Roese, Dell EMC chief technology officer, told Light Reading recently. He mentioned Google's Apigee acquisition as an example of this trend. (See Dell CTO Expounds 'Insane' Theory About Enterprise Complexity.)
Salesforce's mainstay is customer relationship management, but it takes a broad view of what that means, with support for healthcare, the Internet of Things and collaboration tools. (See Salesforce Says Turn Your Head & Cough, Salesforce Launches CRM/IoT Starter Kit and Quip Wants to Kill Email Attachments.)
Salesforce's previous acquisitions include Demandware, an ecommerce service, in 2016; ExactTarget, a cloud-based marketing service, for $2.5 billion in 2013; and Quip, then a collaborative cloud-based word processing app co-founded by Taylor, for $750 million in 2016. (See Salesforce Scoops Up Demandware for $2.8B.)
Related posts:
— Mitch Wagner




Editor, Enterprise Cloud, Light Reading