Microsoft Draft Looks to Make Containers Easier

Comment (1)
Microsoft wants to make it easier for developers to deploy applications in containers, especially within Kubernetes environments. To achieve this, it has released a new open source tool dubbed Draft to streamline this process.
The Draft tool for Azure was developed by the team at Deis, which Microsoft acquired in April for an undisclosed sum. In keeping with its mission, Deis develops container and open source tools for developers creating cloud-based applications. (See Artificial Intelligence Expert Weighs In for WiC.)
What makes Draft an interesting tool for developers is that it does not require any special knowledge of containers, Docker or Kubernetes. Specifically, Draft works in the "inner loop" of the workflow -- the space where developers write the code and iterate. However, at this stage, the developer has not committed changes to the version control.
In a May 31 blog post, Gabe Monroy, the project manager for Container at Microsoft Azure, explains what happens next:
"When developers run 'draft create' the tool detects the application language and writes out a simple Dockerfile and a Kubernetes Helm chart into the source tree. Language detection uses configurable Draft 'packs' that can support any language, framework, or runtime environment."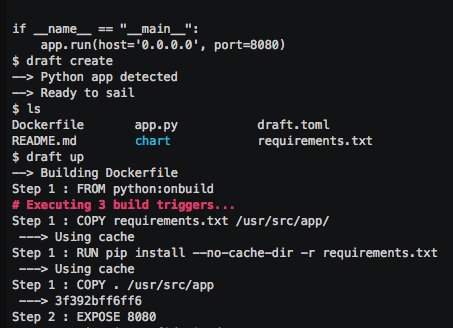 Draft will support several different programming languages, including Node.js, Go, Java, Python, PHP and Ruby. Developers can also customize Draft to streamline the development of apps and service that can run on Kubernetes.
---
M&A activity is turning the cloud upside down. Find out what you need to know in our special report: Mergers, Acquisitions & IPOs are Rocking the Cloud.
---
---
Finally, by using a different command -- "draft up" for example -- a developer can work on his or her app locally, and Draft will then send the code to a Kubernetes development cluster. "This ships source code to any Kubernetes cluster (running either locally or in the cloud), builds it in that cluster using the Dockerfile, and deploys it into a dev environment using the Helm Chart," Monroy wrote.
This allows developers to test the app live and then make changes that can take hold in a few seconds.
Draft is available as of today and can be found on GitHub.
Related posts:
— Scott Ferguson, Editor, Enterprise Cloud News. Follow him on Twitter @sferguson_LR.