Startup Instana, which has quietly been developing application performance management (APM) tools for containers and microservices, is officially releasing its first commercial offering this week, adding artificial intelligence and automation into the DevOps process.
The company is detailing the product -- also called Instana -- at Dockercon Europe on Tuesday.
The goal is to speed-up the development, testing, deployment and maintenance of new applications, especially those applications deployed in containers or through microservices, as enterprises move toward their goal of digital transformation. (See Digital Transformation Causing Sleepless Nights for IT – Study.)
"The digitization or digital transformation trend that is going on is not about being big, it's simply about being fast," Pete Abrams, the co-founder and COO of Instana, told Enterprise Cloud News before the October 17 launch. "The people that can code-up, deploy and operate new business services the fastest are showing themselves to be the winner, and that is a massive competitive advantage."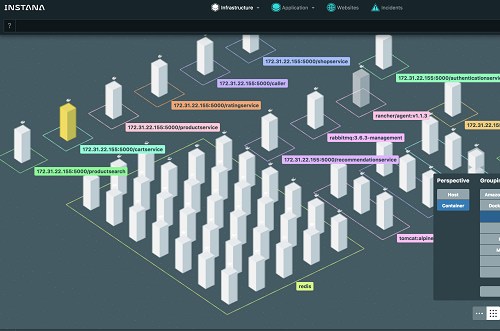 As companies were forced to speed-up production when DevOps, Agile and cloud all came into the market over the last 10 years, Abrams said the same pattern is true for containers and microservices. Now, enterprises are deploying new code up to three times a week to keep with the rapid pace of change, Abrams noted.
At the same time, development environments have gotten more complex with enterprises using different programming languages, leading to additional complexity.
This increased need for speed and complexity are some of the reasons why adding automation and AI into the process is necessary, to help ease the burden on the developers.
Some of the features with the Instana APM tool include:
Automatic, continuous discovery and mapping, which allow for the automatic discovery of the full technical stack, including components, architectures and dependencies.
Real-time analysis and prediction capabilities that can predict anomalies and other constraints.
AI-enabled problem solving and troubleshooting, which predicts and the behavior and performance of applications and the microservices that they use. The idea here is to predict problems before they occur within the application.
This approach to deploying and testing application is one of the main reasons that Cisco lavished $3.7 billion on AppDynamics earlier this year in a way to further ingrain the company into the changing nature of the network -- one that is build more on software than hardware, and using machine learning or AI can help further speed up this process by offering to automate more mundane tasks. (See Cisco's AppDynamics Deal Goes Beyond Cloud.)
---
Keep up with the latest enterprise cloud news and insights. Sign up for the weekly Enterprise Cloud News newsletter.
---
Some of the other big players in the APM market include AppNeta , BMC Software, CA Technologies and Dynatrace.
Cisco acquired AppDynamics for $3.7 billion last year, driving interest in companies such as Instana. While Instana is not in stealth mode anymore, it has kept a low profile, although it raised $6 million in Series A funding in 2016, according to Crunchbase. (See Cisco's AppDynamics Deal Goes Beyond Cloud.)
Abrams said that the new APM product has been released to about 80 to 100 customers over the past six months. This was one way to test it and gain some momentum before making a formal announcement.
So far, Abrams said the APM tool has found traction in the retail market, along with e-commerce, logistics, media and entertainment, as well as banking and financial services. "The common thread is the dynamics of their applications, along with a move into microservices and containers," Abrams added.
Instana has development agreements and partnerships with Docker, IBM BlueMix Container Service and Red Hat OpenShift. Abrams said the company plans to add more integration with Kubernetes and Mesosphere in the future.
Related posts:
— Scott Ferguson, Editor, Enterprise Cloud News. Follow him on Twitter @sferguson_LR.