IBM is selling off Notes and a bunch of other enterprise applications, as it gears up for its historic Red Hat acquisition.
HCL Technologies of India is paying $1.8 billion for a package including Notes and Domino for email and low-code rapid application development; as well as the following: Appscan for secure application development; BigFix for secure device management; Unica on-premises for marketing automation; Commerce for e-commerce; Portal, which does something called "digital experience"; and Connections for collaboration. The two companies already have a five-year partnership on five of the products, according to a joint statement
HCL sees the acquisition as expanding its presence in security, marketing and commerce, as well as connecting it with thousands of global enterprises.
For IBM Corp. (NYSE: IBM), the sale helps its transition to emerging technologies such as AI, hybrid cloud, cybersecurity, analytics, and supply chain and blockchain "We believe the time is right to divest these select collaboration, marketing and commerce software assets, which are increasingly delivered as stand-alone products. At the same time, we believe these products are a strong strategic fit for HCL, and that HCL is well positioned to drive innovation and growth for their customers," John Kelly, IBM senior vice president of cognitive solutions and research, said in the companies' statement.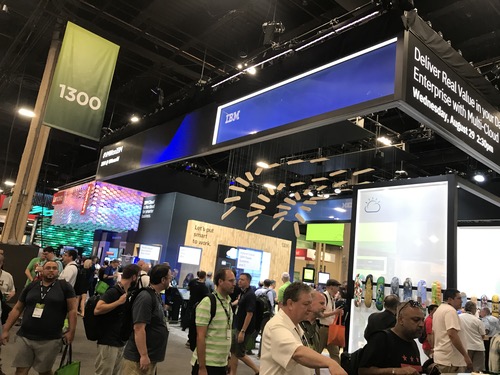 HCL operates out of 43 countries with consolidated revenues of $8.2 billion, serving the financial services, manufacturing, telecommunications, media, publishing, entertainment, retail and other industries.
For IBM, the deal is the corporate equivalent of getting ready for a big purchase by getting rid of a lot of stuff to free up some cash and make room. IBM is planning to buy Red Hat Inc. (NYSE: RHT) for $34 billion, including debt, in a deal announced in October. (See IBM Buying Red Hat for $34B, Turning Cloud Upside Down, IBM-Red Hat: A Crazy Plan That Might Work and How Red Hat Could Give IBM's Telco Strategy a New Lease of Life .)
The Notes sale is historic. Developed as Lotus Notes in 1989, Notes was a pioneering enterprise software tool that swept the market with features such as email and collaboration workspaces, where people could work together on documents and databases, that we now take for granted. Lotus had previously triumphed with the Lotus 1-2-3 spreadsheet, launched in 1983, which drove popularity of IBM's then-new PC. IBM bought Lotus Corporation in 1995 for $3.5 billion.
IBM looked to the Lotus acquisition to help turn around its white-shirt-and-tie culture and embrace the Internet, which was still new.
Which brings IBM full circle, because that's a major reason that IBM is acquiring Red Hat. Big Blue's dress code is more relaxed today than a generation ago, but still -- it's on a journey to adopt new technologies and new business practices, and is looking to the smaller company for help.
— Mitch Wagner




Executive Editor, Light Reading