IBM is enhancing its "Cloud Factory" tools to automate migrating legacy applications to multiple clouds, speeding up the time to convert existing applications to microservices for improved agility and scalability.
The new software, announced Friday, automates much of the process of analyzing workloads, mapping out APIs, and rewriting software to make it suitable to run on IBM Corp. (NYSE: IBM)'s own cloud, Amazon Web Services, Microsoft Azure, Google Cloud and Alibaba, with private cloud support in partnership with Red Hat's OpenShift Kubernetes container platform, IBM distinguished engineer Bill Brown tells Light Reading.
IBM's goal is to help enterprises both migrate to the cloud and modernize applications into microservices components. Modernizing can help improve scalability, speed up upgrades and maintenance, and rewrite applications written in older languages, such as Assembler and Cobol, where it's hard to find programmers conversant in the software, Brown says.
Modernization into microservices makes it easier to rewrite the user interface to support a variety of platforms, including desktop and mobile, and reduces outages, Brown says.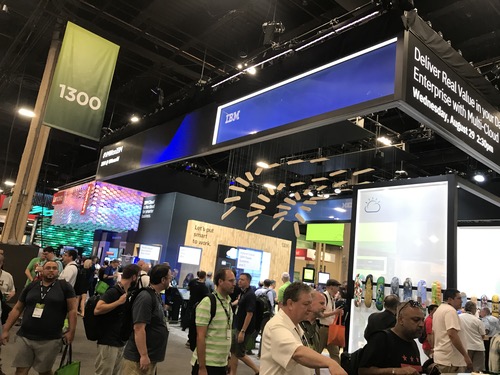 ---
Now entering its fifth year, the 2020 Vision Executive Summit is an exclusive meeting of global CSP executives focused on navigating the disruptive forces at work in telecom today. Join us in Lisbon on December 4-6 to meet with fellow experts as we define the future of next-gen communications and how to make it profitable.
---
Additionally, IBM is extending its partnership with ServiceNow to help enterprises manage IT resources across multiple clouds.
Multicloud is behind IBM's planned $34 billion acquisition of Red Hat Inc. (NYSE: RHT), announced last month. IBM wants to enhance its position as a trusted broker helping enterprises move applications to Amazon, Microsoft, Google, Amazon, IBM's own cloud, and SaaS providers. (See IBM-Red Hat: A Crazy Plan That Might Work, How Red Hat Could Give IBM's Telco Strategy a New Lease of Life and Is IBM Late to the Multicloud Party?.)
IBM has a lot of competition in that strategy from just about every major public cloud and enterprise provider, including Amazon, Cisco, Microsoft, Dell, VMware and Google. (See Cisco & Amazon Bring Public Cloud On-Prem, VMware Buys CloudHealth for Multicloud Ops, Top 5 Drivers for Multicloud, Dell CTO Expounds 'Insane' Theory About Enterprise Complexity, Dell CTO: Public Cloud Is 'Way More Expensive Than Buying From Us', Google Debuts On-Prem Kubernetes Server, Cisco & Google's Kubernetes Partnership Could Deliver in October and Google Launches Cloud Services Platform, a Toolkit for Kubernetes & Serverless Apps.)
— Mitch Wagner




Executive Editor, Light Reading