Is there any significant container provider not supporting Kubernetes anymore? A last major holdout signed on Tuesday, as Docker announced Kubernetes support for enterprise container apps, complementing Docker's own Swarm container orchestration.
Docker Inc. is adding Kubernetes support for Docker Enterprise Edition, providing security across the software supply chain, full compatibility across major Linux and Windows environments, and management for hybrid clouds.
"With the next release of Docker, we're adding orchestration choice," Docker CMO David Messina tells Enterprise Cloud News. "You now have the option of Swarm or Kubernetes. In the same cluster, you can have both."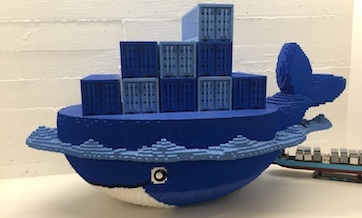 ---
Keep up with the latest enterprise cloud news and insights. Sign up for the weekly Enterprise Cloud News newsletter.
---
Docker sees Swarm as best for enterprise applications and for applications built with service-oriented architecture (SOA), a precursor to microservices that was in vogue eight to ten years ago. Kubernetes, the company contends, is more for platforms-as-a-service (PaaS) and web apps.
Adoption of Kubernetes often requires changing processes, governance, and how teams are organized, Messina says. "Our point of view is to meet the user where they are -- don't impose a disruptive model," he adds. PaaS platforms do the opposite, requiring users to change their business processes.
Support for Kubernetes as well as Swarm keeps developers and operations aligned with the same operating model across different app types and infrastructures, Messina says.
Kubernetes support is a big change for Docker, which in mid-2016 touted its own Swarm as superior to Kubernetes in that Kubernetes required teams of support specialists. (See Docker Targets Google Kubernetes.)
The past several months have seen a flurry of major vendors announcing support for Kubernetes.
Oracle Corp. (Nasdaq: ORCL) signed on to Kubernetes in September. (See Oracle Latest Cloud Provider to Jump on Kubernetes.)
Also that month, Mesosphere announced Kubernetes support. (See Kubernetes Assimilates Mesosphere, Honoring Borg Ancestry.)
And Mirantis Inc. said in September it will provide Kubernetes management on Amazon Web Services Inc. (See Mirantis Leaps to Public Cloud.)
AWS endorsed Kubernetes when it joined the Cloud Native Computing Foundation, the organization that coordinates Kubernetes development, in August. (See Amazon Joins Cloud Native Computing Foundation: Why You Should Care.)
Containers pioneer CoreOS Inc. announced support for Kubernetes on Microsoft Azure in August. (See CoreOS Adds Microsoft Azure Support for Kubernetes.)
And Microsoft launched an enterprise container support service on Azure, with Kubernetes compatibility, in July. (See Microsoft Fires Shot at Google With Containers.)
Docker is not on the scale of Amazon or Oracle, of course, but Docker's (and Mesosphere's) support for Kubernetes are noteworthy because the two companies pioneered container orchestration with rival technologies.
Related posts:
— Mitch Wagner




Editor, Enterprise Cloud News