Pivotal was up nearly 5% on its first day of trading Friday, closing at $15.73 per share following its initial public offering.
The company priced its IPO at $15 per share late Thursday and started trading at $16.75. The IPO price gives the company an implied value of more than $3 billion.
Pivotal is controlled by Dell Technologies (Nasdaq: DELL), which has majority ownership in the company. Pivotal provides software and services based on the open source Cloud Foundry, a middleware platform for building cloud applications that are portable between public, private and hybrid clouds.
Cloud Foundry automates infrastructure, enhancing developer productivity by letting them focus on application capabilities rather than how the applications allocate compute, storage and networking resources.
Pivotal is pivotal (so to speak) to Dell's strategy of providing servers and other enterprise hardware to providing software and hardware infrastructure for enterprise cloud. Pivotal is a key component of the software part of Dell's portfolio. (See Dell CTO: Public Cloud Is 'Way More Expensive Than Buying From Us'.)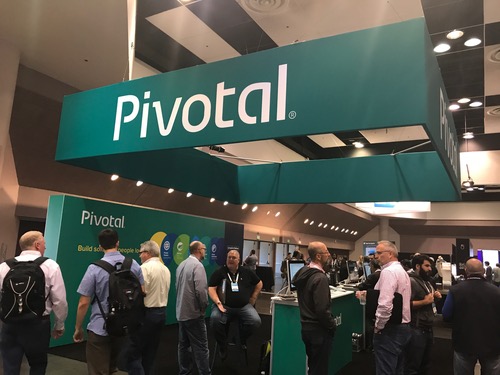 ---
Boost your knowledge of cloud-native software and innovations driving data center transformations! Join us in Austin at the fifth-annual Big Communications Event May 14-16. The event is free for communications service providers -- secure your seat today!
---
Total revenue for Pivotal was $509.4 million, $416.3 million and $280.9 million in fiscal 2018, 2017 and 2016 respectively, with year-over-year growth of 48% and 22% in its two most recent fiscal years. Net loss was $163.5 million, $232.9 million and $282.7 million in fiscal 2018, 2017 and 2016.
Pivotal was founded in April 2013, combining teams and contributed assets and technology from EMC and VMware Inc. (NYSE: VMW), which was at that time majority-owned by EMC. Dell acquired EMC, along with its VMware assets, in 2016.
Pivotal's complicated ownership seems likely to have been a significant contributing factor in its relatively minor IPO bump.
By comparison, another cloud company, Dropbox, held its IPO the same day as Pivotal filed; Dropbox was up more than 35% on its first day of trading, closing that day at $28.42. It closed Friday at $28.92. (See Pivotal & Dropbox: A Tale of 2 Cloud IPOs.)
Related posts:
— Mitch Wagner




Executive Editor, Light Reading