LAS VEGAS -- Cisco Partner Summit 2018 -- Cisco is flexing its collaboration muscles, with new voice-calling capabilities for sale in partnership with service providers, as well as hardware for people holding meetings in "huddle spaces" (Cisco's fancy phrase for meetings in small rooms and around desks in open offices).
Cisco Systems Inc. (Nasdaq: CSCO) said Tuesday that it is integrating BroadCloud Calling cloud PBX with WebEx Teams, and making that available through service provider partners. Enterprise users can now initiate voice calls by clicking on a colleague's name in Teams, integrating calling, meetings and team collaboration into a single package.
The BroadCloud Calling cloud PBX service became a Cisco service through Cisco's acquisition of BroadSoft last year. (See Cisco Announces $1.9B Deal for BroadSoft.)
Cisco is incorporating BroadCloud calling into its Flex Plan, to allow enterprises to pay a simple subscription fee to telcos and other service providers for their combined collaboration tools from Cisco, including on-premises, in the cloud, or hybrid delivery models. "Service providers can now create a complete collaboration solution to help midsize businesses and enterprises move to the cloud faster," Cisco said in a statement. The Flex Plan is initially available through six US service providers, including CenturyLink, NWN, Orange and West, and will expand to global locations in 19 countries this year, with continued expansion beyond, Cisco says.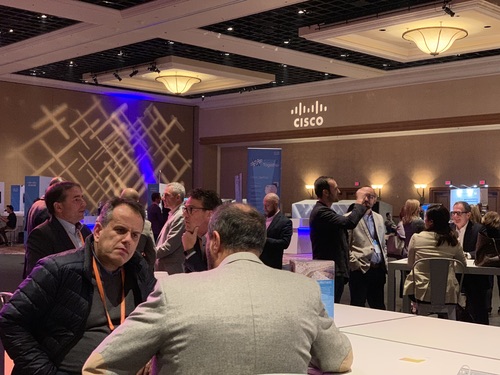 ---
Now entering its fifth year, the 2020 Vision Executive Summit is an exclusive meeting of global CSP executives focused on navigating the disruptive forces at work in telecom today. Join us in Lisbon on December 4-6 to meet with fellow experts as we define the future of next-gen communications and how to make it profitable.
---
Additionally, the vendor is providing a new Cisco Calling App, for calling from mobile devices. The app supports mute, park, transfer and click-to-dial, as well as high-definition video calls. The app can also make a business call from a mobile device over the cellular network while displaying the user's published business number. It integrates with the user's Outlook and enterprise directory, to make it easy to find colleagues through simple search. And service providers that sell BroadCloud Calling while using the Flex Plan can private-label the app.
Also, Cisco introduced hardware to improve collaboration from "huddle spaces: These are very small meeting rooms -- some just six feet across. (We call those rooms "closets," but sure you can call them "huddle spaces" if you want, whatever.)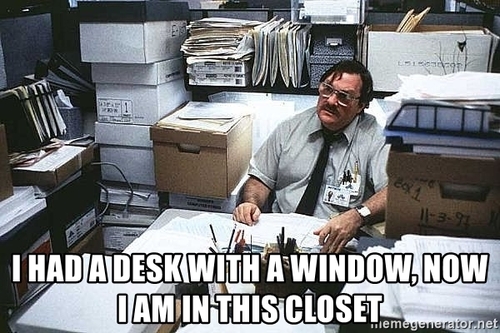 "Huddle spaces" also describes people huddling around a desk to collaborate in an open office, Cisco says.
To facilitate distance collaboration between people in huddle spaces, the WebEx Room Kit Mini is a scaled down version of Cisco's existing hardware for full-sized meeting rooms. It's custom-made for smaller spaces, and provides AI, cameras and microphones to optimize meeting experiences for confined areas. It wakes up when people enter the room, and tunes video so that everyone in the space can be seen by people on the far end, without fish-eye views that you get when people sit close enough to a camera to touch it. Microphones are optimized to only pick up sound from people talking in front of the camera.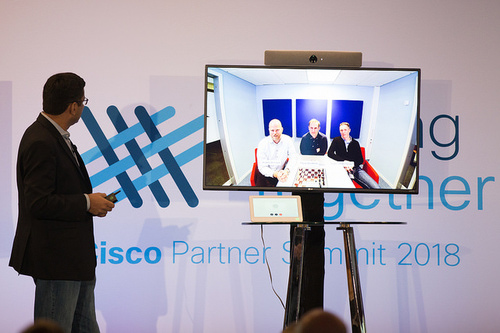 In a feature under development, AI can overlay speaker names under the images of people participating in a remote meeting.
Also, the WebEx Board 55 provides shared whiteboarding for larger spaces.
Additionally, the new WebEx Share device eliminates the need to stand over someone's shoulder to see what's on their screen. It's a palm-sized adapter that works with WebEx Meetings and WebEx Teams to turn any TV screen into a presentation device, without dongles or cables.
And Cisco provides AI and analytics to help real estate managers optimize office space for meeting rooms and huddle spaces.
In addition to the new collaboration tools, Cisco also introduced SD-WAN updates Tuesday designed to help telcos and other communications service providers make SD-WAN more appealing to enterprises. (See Cisco Secures & Sweetens SD-WAN.)
Related posts:
— Mitch Wagner




Executive Editor, Light Reading