Application containers are a small part of the overall cloud computing market, but that could change starting this year, especially as cloud goes more mainstream and businesses large and small look for better ways to develop new applications that work with the technology.
At the end of 2016, the application container market stood at about $762 million, but that number is poised to grow to $2.7 billion by the end of 2020 -- a compound annual growth rate (CAGR) of 40% -- according to new numbers from 451 Research.
Application containers are part of what 451 Research calls the Cloud-Enabling Technologies (CET) market, which also includes virtualization, private platform-as-a-service (PaaS), as well as other automation and management tools designed for the cloud. These technologies are estimated to be worth more than $23 billion by the end of 2017.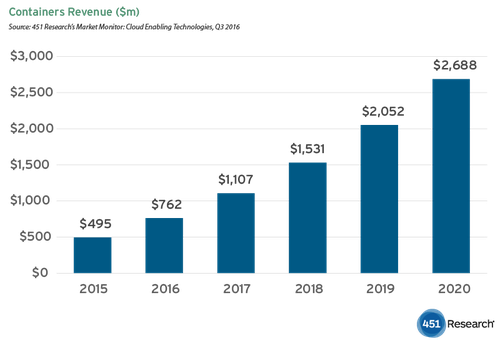 The CET market is expected to grow to nearly $40 billion by 2020.
Application containers allow developers an easier way to create, build and test software and then deploy that software across different platforms and devices. While containers remain a small fraction of the overall cloud market, developments from companies such as Docker Inc. and Amazon Web Services Inc. have started to showcase what the technology can do, especially as the cloud becomes more integral to the IT infrastructure of businesses.
The 451 report compares the application containers market to OpenStack, since both are based on open source and have attracted attention from large, established vendors, as well as any number of startups. However, while both technologies experienced rapid growth, there are more vendors committed to containers compared to OpenStack, according to the report. (See OpenStack Punches Above Its Weight.)
(For those keeping score, the OpenStack market is worth about $1.8 billion now, and is expected to increase to $5.8 billion by 2020.)
While 451 analysts are currently looking at about 90 different OpenStack vendors, there are already 125 different application container vendors active in the cloud market, and that number is expected to grow even more.
This could also explain some recent acquisitions and mergers in the management part of the container market, including Apprenda's acquisition of Kismatic, and Cisco buying ContainerX. (See Apprenda Launches Enterprise Kubernetes With Kismatic Acquisition and Cisco Snaps Up ContainerX.)
"Two things stand out from our market sizing and research on containers: the breadth and diversity of vendors basing their offerings on containers or integrating and partnering to better support containers in their products, and the speed at which the container software and market are maturing based on production, use and revenue growth," Greg Zwakman, vice president of Market and Competitive Intelligence at 451 Research, wrote in a Jan. 10 statement.
Tuesday's report from 451 confirms an early study done by the firm about container adoption within the enterprise. Of 800 users surveyed between April and May, about a quarter of those reported are using container technologies. Of those respondents, 34% reported that they were involved in broad implementation of production applications, while 28% told researchers that they had begun initial implementation of production applications with containers.
---
CALLING ALL CLOUD, NFV AND SDN COMPANIES: Make sure your company and services are listed free of charge at Virtuapedia, the comprehensive set of searchable databases covering the companies, products, industry organizations and people that are directly involved in defining and shaping the virtualization industry.
---
— Scott Ferguson, Editor, Enterprise Cloud. Follow him on Twitter @zdeferguson.