Embrace F5.5G and stride to Green 10Gbps
Building innovative digital products to ensure a carbon-neutral future is the cornerstone of a smart, connected society. As F5G(Fifth Generation Fixed Network defined by ETSI) transitions to its next F5.5G iteration, it will not only deliver VR, AR and 8k video to consumers and industries, but also enhance communication and collaboration in every business sector, from education and healthcare to manufacturing, agriculture and transportation.
The delivery of green gigabit all-optical networks to support the evolution to F5.5G can power every facet of today's digital economy while meeting sustainability goals. It represents a win-win situation for consumers and operators because it reduces the construction and O&M costs per bit to one-fifth while ensuring zero energy consumption.
In this article, we explore the benefits of green gigabit optical networks. We also look at the opportunities and challenges in delivering the ultimate user connectivity experience and how Huawei's Green Intelligent OptiX Network will help drive the future direction of the connectivity industry and business growth.
Achieving the green gigabit all-optical network
Network bandwidth requirements are increasing across every economic sector with connectivity representing a key goal of today's smart society. As part of that trend, all-optical fixed networks support the need for green development. Environmentally friendly with a low carbon footprint, fiber represents the key ingredient for sustainable gigabit development as well as for ensuring an ultimate end user connectivity experience.
To meet the demands of new smart innovations (i.e., IoT, VR, AR, 5K video, etc.), current gigabit all-optical networks also require an upgrade to 10Gbps connectivity to make the transition to 10Gbps Everywhere. The gains associated with all-optical networks can effectively support the green development of digital connectivity standards worldwide.
As the demands of today's smart society grows, they'll require additional bandwidth capabilities for diverse environments, such as educational campuses, industries, business enterprises and home environments. Gigabit optical networks answer those needs through the rapid spread of smart applications and network upgrades to deliver ultra-performance experiences.
Supporting green gigabit delivery
It's clear that the acceleration and popularization of intelligent applications require more bandwidth capacity and greater connectivity. One aim is to reduce the per-bit construction and O&M costs without increasing energy consumption. "Green Giga" defines four development directions (G-I-G-A) to accelerate gigabit network construction: Giant capacity, Intelligence for all, Guaranteed experience and Architecture simplified.
"Today, gigabit connectivity is rapidly growing more popular around the world," says Richard Jin, President of Huawei's Optical Business Product Line during MWC 2023. "Looking towards 2025, diversified network requirements include ubiquitous 10 gigabit connectivity. All industries need to work together to embrace F5.5G and stride to 10Gbps Everywhere. Huawei will join hands with global operators to accelerate network upgrades and the application of new technologies, helping operators continuously expand their business boundaries and seize opportunities with ultimate user experience to lead the future," says Jin.
Huawei's innovations for F5.5G and Stride to 10Gbps Everywhere
Once global operators upgrade their networks in the four directions for building network capacity (G-I-G-A), they will be able to provide users with high-quality gigabit experiences and more effectively support network evolution to F5.5G. For example, by enabling ultra-high bandwidth through innovative technologies, such as 400G, OXC, 50G PON and FTTR, operators can eliminate bottlenecks of node capacity, network layer capacity and end-to-end network capacity. They can then more effectively meet service bandwidth requirements and gain more revenue opportunities.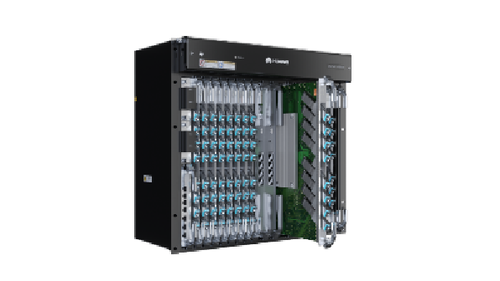 End users benefit from optical fiber connectors and achieve seamless digital experiences through 2000Mbit/s coverage across their entire home environment. The Huawei FTTR OptiXstar F30, the industry's first commercial 50G passive optical network (PON), extends home optical fiber connections through an innovative C-WAN architecture. The Huawei OptiX Alps-WDM moves the optical transport network (OTN) from aggregation nodes to CO sites forming an E2E all-optical network architecture. These innovations not only help operators build E2E green all-optical networks, they also support smooth evolution to F5.5G and 10Gbps Everywhere.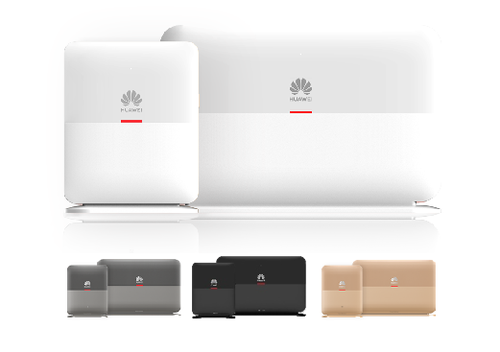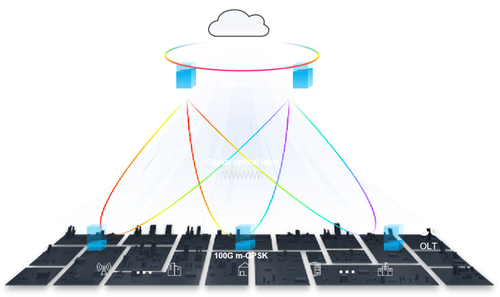 Solutions for achieving green gigabit
"Based on the vision of green gigabit and the development directions of G-I-G-A, Huawei will continue to innovate to support operators in building green gigabit all-optical networks that feature future-oriented service development and efficient operations," says Jin.
To ensure giant capacity, innovative technologies such as 400G, OXC, metro OTN, 10G PON, and FTTR must be introduced to gigabit networks, from backbone to home, to build all-optical networks that provide 400G to backbone networks, 100G to metro networks, 10G to access networks, and 1G connections to rooms in the home. This eliminates the bottlenecks of node capacity, network layer capacity, and end-to-end network capacity. It meets service bandwidth requirements, and promotes revenue growth for operators.
To provide guaranteed experience, Huawei FTTR OptiXstar F30 extends home optical fiber connection to individual rooms. The innovative C-WAN architecture provides 2000 Mbit/s Wi-Fi coverage throughout the entire house with imperceptible roaming to achieve an incredible home experience. Huawei OptiX Alps-WDM moves OTN from aggregation nodes to CO sites to build an E2E all-optical network with a superlative bearer experience.
Achieving one-stop access is accomplished through a simplified, all-optical architecture. It employs Huawei's CO+AirPON solutions to provide 10G PON capabilities using external infrastructure, including utility poles, curb sites and buildings. Administrators can integrate management through one site as well as one network and reduce OPEX by 60%. Huawei combines a 3-D mesh backbone with its Alps-WDM solution for metro networks to ensure a one-hop connection and significantly reduce network construction costs, footprint and energy consumption.
To further enable all-dimensional intelligence, Huawei s' three solutions can improve user experience: Premium Broadband solution, the optical cable networks digitalization solution and an intelligent green O&M solution. By analyzing experience data, the Premium Broadband solution automatically uncovers faults and accelerates optimization. The network digitalization solution centrally analyzes and visualizes data by detecting optical cables for easier management. Finally, using boards, port usage and traffic data, the intelligent green O&M solution dynamically adjusts power consumption. These solutions and innovations represent Huawei's vision for rapid support of green development, smart applications and the ultimate user connectivity experience.
To dive into all-optical network, please click here to learn more.
This content is sponsored by Huawei.