BARCELONA -- MWC 2018 -- Telstra is to shutter 50% of its local exchanges and will redeploy its remaining facilities as local data centers to support its 5G strategy, senior executives from the operator told the media during a briefing here.
Mike Wright, group managing director of networks at the Australian operator, said Telstra will close 2,500 local exchanges and repurpose the remaining facilities as distributed, local data centers. "We're moving from a static to a dynamic network … all applications will come up in the cloud" in a 5G world," he said.
The process is at an early stage and will also require the construction of additional regional data centers to sit between the major centralized DCs and the local facilities, noted Wright.
The move will support Telstra's ongoing push towards edge computing, greater virtualization and automation, said Wright and Robyn Denholm, the operator's COO (chief operating officer). Telstra has already deployed SDN capabilities in its transport network and virtual network functions (VNFs) to enable voice-over-LTE (VoLTE) services to its 4G customers. "We are already heading towards 50% of our mobile voice traffic going over our VoLTE network," said Wright, who noted how quick that shift had happened. "And all of our 5G services will be supported by virtualization," he added.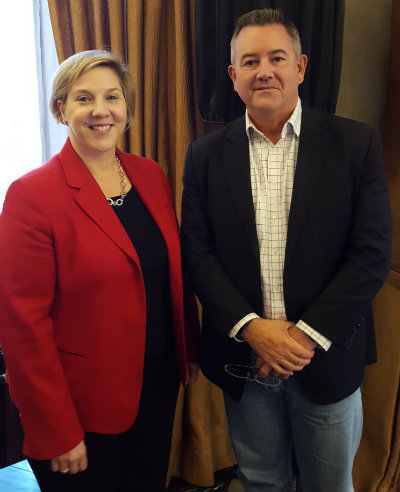 That'll make for a busy 2018 for the Telstra operations team as the operator is planning to launch 5G services next year following a series of trials and tests the operator is undertaking with close partner Ericsson this year at its recently launched 5G Innovation Centre. Wright said that the three use cases for 5G are enhanced mobile broadband, fixed wireless broadband and "then the real scale will come with IoT and edge computing … we will have a network that, with network slicing, will be able to support different services that have different requirements, whether low latency or greater capacity" and so on.
Key to benefiting from enhanced 4G -- Telstra is pushing the boundaries there with tests of five-carrier aggregation that achieved 2Gbit/s download speeds -- and 5G is the introduction of greater automation in the network management layers and in the back office, said Denholm. "Automation is an important step in enabling the resiliency and management of future networks," she noted, adding that Telstra has already automated multiple processes with the deployment of a next-gen OSS system, the automated self-diagnosis of WiFi gateways in customer premises and the dynamic reconfiguration of LTE broadcast capabilities.
But why the rush to 5G? Telstra is convinced it can deliver operational and economic benefits and open up a range of new service delivery and revenue-generation opportunities. Denholm says the cost-per-bit of delivering data traffic will be lower in 5G networks than in 4G and that's justification alone to invest as soon as possible. "Now we're working on the new revenue streams as new use cases become apparent," and in a country with significant agriculture and mining industries, there are plenty of industrial IoT use cases and tailored services that can be developed to meet the needs of Australian enterprises, said the COO.
— Ray Le Maistre, Editor-in-Chief, Light Reading