Ericsson Wants to Add Compute to CDNs

Comment (0)
BARCELONA -- MWC 2018 -- Content delivery networks were all about edge networking before edge networking was sexy, but the primary purpose of a CDN is localized storage, not localized compute cycles. Now Ericsson hopes to combine the two.
In an out-of-the-way section of the Ericsson AB (Nasdaq: ERIC) booth at Mobile World Congress, CDN Business Development Director Richard Dawson is showing off a demo of the company's Unified Delivery Network solution (an innovative approach to content delivery all by itself) paired with a machine learning application hosted in a Kubernetes containerized environment. That's all a fancy way of saying that Ericsson has a solution for adding virtual compute to caches that are already being deployed in last-mile broadband networks.
The most practical use cases for edge computing are still being determined, but Dawson is demonstrating an application that analyzes real-time video and attempts to identify objects in the video stream.
"Alongside the media ingest we are hosting this other application and it's a machine learning application," he says. "So that particular application is identifying objects and people and assigning a level of confidence as to what it thinks it's identified." It's also overlaying that information as an augmented reality layer on top of the video footage.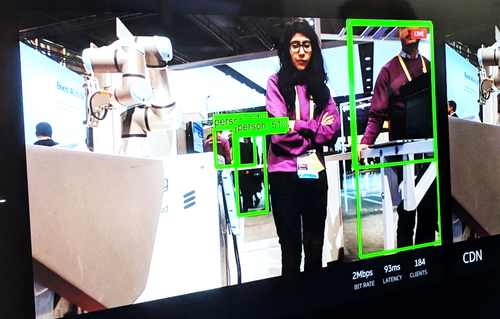 The example isn't purely hypothetical. Ericsson has been running a trial in Sydney with technology that monitors webcam video of a remote robot to ensure no one passing by interferes with its operations. Dawson also cites an example where Ericsson's edge computing solution has been tested to enable synchronization of live video broadcasts with streaming video delivered to a mobile device.
"We have a couple of live use cases, but we don't have a commercial deployment," says Dawson.
He also points out that in initial trials, Ericsson has been working with bare metal rather than a virtualized container system. "Obviously we'd have to change that over to a virtualized environment," he says.
---
Want to read the hot news and views from Mobile World Congress 2018? Check out our dedicated MWC 2018 news section to keep up to date with the key developments from Barcelona.
---
Deployments are initially hard to justify because they require a certain amount of investment, but in the future when computing capabilities are widely distributed, the opportunity for new applications will be virtually limitless. Smart cities, for example, could use artificial intelligence at the network edge to better optimize transportation, improve public safety and stimulate economic development.
Dawson doesn't want to overstate the case for video providers today, however. Asked whether he believes operators will actively start adding edge processing to their video caches, Dawson says only "It's possible."
But he adds that Ericsson is demonstrating the technology because the company sees its value.
— Mari Silbey, Senior Editor, Cable/Video, Light Reading
EDUCATIONAL RESOURCES



PARTNER PERSPECTIVES
- content from our sponsors