2:10 PM -- Jim Balsillie, co-CEO of BlackBerry , warned investors today to brace themselves for a "quantum leap" in the smartphone market, put into motion by RIM's upcoming new operating system, 6.0. (See RIM Reports Q1.)

The BlackBerry maker, in danger of being squeezed out by Apple Inc. (Nasdaq: AAPL) and Google (Nasdaq: GOOG)'s Android, put on an optimistic face today as it reported first-quarter earnings. Balsillie's attitude throughout the company's call with industry analysts was, "Just wait until you see what we have in store."

"You'd be really surprised by it, and I'll think you'll just be amazed at how it's a quantum leap over anything that's out there," he said on the earnings call, referring to RIM's upcoming platforms, according to a transcript courtesy of Seeking Alpha.

He wouldn't elaborate on the new OS, thought to be comparable to the iPhone's updated platform, but he did say that two significant product announcements are coming by the end of the summer and that the rest of the year would see big moves from RIM.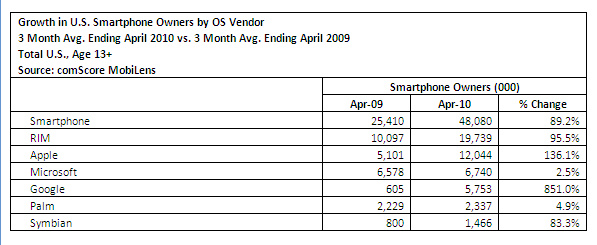 When asked how RIM will differentiate its new products, thought to be a touchscreen tablet and smartphone, Balsillie replied: "I mean, we have unprecedented campaigns and device programs and commitments in our history. And I'm just not going to talk anything more about our products and our launches until their time." He said more, but it didn't really make much sense or answer the question.

To be fair, the vendor actually grew increased its revenues and profits in its first quarter, although sales fell short of its own expectations. Overall, it shipped 11.2 million devices in the quarter, including its 100 millionth BlackBerry.

It's holding its own in the market, but as to whether it can successfully rise about the competition... we'll have to wait and see.

— Sarah Reedy, Senior Reporter, Light Reading Mobile