Sprint Corp. (NYSE: S) spent its way to a fourth-quarter loss of US$1.3 billion thanks to upfront spending on the iPhone and its 3G and 4G "Network Vision" upgrade program.

The numbers Sprint's loss increased to $1.3 billion, or $0.43 per share, from $929 million, or $0.31 a share, in the previous year, on revenues of $8.72 billion, up from $8.3 billion. Wall Street analysts had expected revenues of $8.69 billion, according to Thomson Reuters .

The company added 1.6 million total net subscribers during the fourth quarter, extending its total sub count to 55 million. The company added 161,000 subscribers on a monthly contract during the winter quarter. (See Sprint Q4: What We Already Know.)

The big iPhone spend Sprint activated over 1.8 million phones during the quarter. Forty percent of those activations were new customers for Sprint, the carrier said Wednesday. "Sprint's 40 percent gross add mix far outpaced our competitors," CEO Dan Hesse noted on the earnings call. (See Sprint's Q4 iPhone Activations Could Total Nearly 2M.)

The carrier said the costs of subsidies it paid during the quarter rose from $1.2 billion to $1.7 billion in the last year. This was largely due to the debut of the iPhone 4 and iPhone 4S on the Sprint network, as these phones are heavily subsidized by Sprint.

The company is hoping that the upfront spend will mean high-value monthly customers for years to come.

Sprint didn't come close to the respective 7.6 million and 4.2 million iPhones that AT&T Inc. (NYSE: T) and Verizon Wireless shifted during the quarter. As Hesse noted on the call, however, Sprint didn't offer any cost-cutting on the Apple Inc. (Nasdaq: AAPL) phones. (See OS Watch: Samsung & Apple Duke It Out .)

The upgrade update Sprint announced Wednesday that it plans to launch two more major Long Term Evolution (LTE) cities by mid-2012. Baltimore and Kansas City will join Atlanta, Dallas, Houston and San Antonio in its new 4G line-up. (See Sprint's 4G LTE Texan Triangle.)

Sprint President of Network Operations Steve Elfman stressed, however, that it is important to remember that the Network Vision upgrade isn't just about 4G, but 3G too. The company is deploying multi-modal basestations that support CDMA and LTE, while slowly shutting down its Nextel iDen network and re-using the 850MHz spectrum. (See Sprint Details iDEN's Death March .)

The company is expected to have something like 12,000 Network Vision sites online in 2012. "What we're doing this year is really in the larger cities," said Elfman. This will give Sprint the best return on roaming costs and more.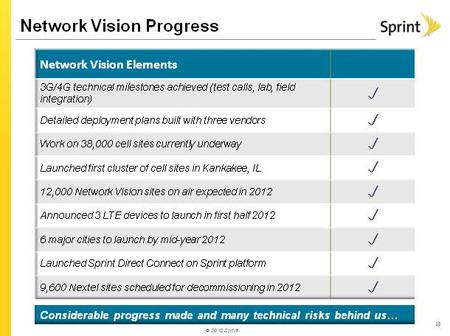 Sprint expects to shut down nearly 10,000 Nextel sites in 2012. The company also expects to drop its towers from 68,000 today to around 38,000 by the time it's done at the end of 2013 or in 2014.

Clearwire Executives said on the call that they are happy to have nailed down the WiMax relationship with Clearwire LLC (Nasdaq: CLWR). Hesse said that the operator expects to run WiMax devices on the network for years to come. (See Verizon Is Eating Sprint's 4G Lunch.) Nonetheless, CEO Hesse is expecting to get on the faster Clearwire LTE network sometime next year. "We hope in the 2013 timeframe ... we'll begin to see devices that work on Clearwire's new LTE TDD network," Hesse said.

— Dan Jones, Site Editor, Light Reading Mobile