DTAs on Parade
NEW ORLEANS --
The Cable Show
-- With digital terminal adapters (DTAs) from
Cisco Systems Inc.
(Nasdaq: CSCO),
Motorola Inc.
(NYSE: MOT), and
Thomson S.A.
(NYSE: TMS; Euronext Paris: 18453) on display here on the show floor, it's safe to say that
Comcast Corp.
(Nasdaq: CMCSA, CMCSK)'s big analog bandwidth reclamation project is real.
All three set-top box makers have created small (and relatively simple) brick-looking digital-to-analog adapters that could play a starring role in an "all-digital" initiative at Comcast that's expected to involve roughly 20 percent of the MSO's footprint during the back half of 2008. Comcast will use DTAs to reclaim about 40 analog channels. It's expected the MSO will reuse that spectrum for more high-definition television and video-on-demand services, and headroom for Docsis 3.0. (See
Comcast Spreads the Love
.)
Comcast publicly confirmed the DTA project earlier this month. Industry sources say the MSO is seeking DTA unit prices in the neighborhood of $35. (See
Comcast Confirms Digital Dongle Project
and
Comcast Pursuing $35 Digital Dongle
.)
Motorola's first entry in this product category is the DTA 100. The company expects it to become available in the fourth quarter. "We anticipate being selected," a Motorola spokeswoman said, when asked if the company had won any purchase orders yet with Comcast.
For a product roundup, click on the slideshow below: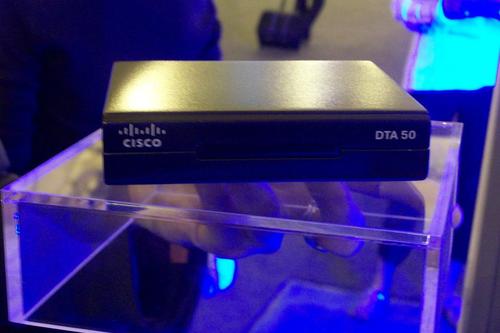 We will get more product details today, but Cisco, the second largest supplier of set-tops to the U.S. cable industry, is showing off what it's calling the DTA 50.
Thomson, meanwhile, is demonstrating the DCI1011, a DTA that will reach mass production by September, according to Bradley Sparks, the company's business development/project manager for cable in North America. He says Thomson has received a "good verbal commitment for the devices" from an undisclosed operator. Comcast awarded Thomson a deal to supply embedded multimedia terminal adapters last year. Just sayin'. (See
Thomson Wins eMTA Deal
.)
Another vendor we haven't seen here in New Orleans (yet), but clearly has a DTA in its lineup, is Centennial, Colo.-based
Evolution Digital
. Earlier this month,
Multichannel News
reported
that
Massillon Cable TV Inc.
is using DTAs distributed by Evolution Digital and made by South Korea's
Homecast Co. Ltd.
to push an all-digital strategy.
Perhaps more surprising is which vendor
did not
have a DTA on display:
Pace Micro Technology
, which, according to multiple industry sources, is in line for some of Comcast's business for these digital-to-analog bricks. At this point, Pace isn't saying much about when or if it will market such a device.
"We're not commenting on speculative business right now," said Tim O'Loughlin, Pace's vice president of sales and marketing, late Monday.
Not left to as much speculation are the rather limited capabilities of this new class of DTAs. All are one-way, meaning they won't do video-on-demand, and won't support an interactive program guide. However, from the demos we saw here, all the DTAs use simple remote controls.
There are still questions about whether Comcast will require its DTAs to support conditional access (CA) or some level of content protection. The version Massillon Cable TV is installing reportedly uses a CA from
Conax AS
. A Thomson official said its DTA is capable of supporting a conditional access system.
Whatever approach Comcast takes with the DTA project, it will likely be a careful one to ensure that the devices are limited enough to comply with the tenets of the
Federal Communications Commission (FCC)
separable security mandate that went into effect last July. Comcast has long sought a waiver for entry-level digital boxes, but its attempts were stymied yet again late last week by a Washington, D.C. appeals court. (See
Comcast Denied Set-Top Waiver (Again)
.)
Another approach
Although the DTA is becoming central to Comcast's coming analog reclamation project, it's not the only approach. Based on what we've seen at the show,
BroadLogic Network Technologies Inc.
has made some significant progress with a gateway concept powered by its TeraPIX chipset that handles the digital-to-analog conversion via a gateway. (See
BroadLogic Trims D-to-A Costs
.) That means every cable outlet in the home would be capable of outputting an analog video signal without the need for a separate DTA or digital set-top box. But BroadLogic has not released any pricing details or how gateway products based on its silicon will stack up against a DTA-centric strategy on an economic basis.
Here in New Orleans, the chipmaker unveiled a gateway reference design and a gateway product developed by
Funai Electric Co. Ltd.
(OTC: FUAIY), BroadLogic's first OEM (original equipment manufacturer) partner.
— Jeff Baumgartner, Site Editor,
Cable Digital News
PARTNER PERSPECTIVES
- content from our sponsors