1:15 PM -- Reuters reports on North Korea's bold step forward in implementing national security:


North Korea's security agency has ordered the shutdown of karaoke bars and Internet cafes, saying they are a threat to society, a South Korean newspaper reported Wednesday.


Right... In case anyone has been misled by recent news surrounding North Korea, it's the karaoke bars and Internet cafes that are threatening that society, not atomic bombs or crazed dictators.


"It is so promulgated under the mandate of the Republic in order to crush enemy scheming and to squarely confront those who threaten the maintenance of the socialist system," the daily quoted the ministry directive as saying.
Heck. I thought karaoke only threatened the maintenance of sobriety.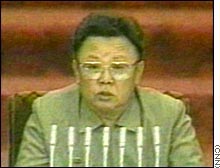 — Red "I just want to sing" Panda, Light Reading