Provisioning: Cisco Network Services Manager

1/29/2012

Comment (0)

EXECUTIVE SUMMARY: Cisco Network Services Manager automatically configured multiple tenants throughout the data center.

After we completed the BMC CLM tests, Cisco asked us to test another provisioning tool: Cisco Network Services Manager, formerly known as OverDrive Network Hypervisor. Cisco explained that this tool, acquired in 2010 together with Linesider Technologies, is focused more on the network side of the data center, whereas BMC CLM also provisions virtual machines.

Cisco walked us through the Network Services Manager Graphical User Interface (GUI) as we created our first tenant, but at the same time they explained that the plan is for the admin to never see this GUI in the future. They plan for the tool to integrate with higher layer orchestration tools.

From the GUI, we chose a so-called "Metamodel" with which we could associate our yet-to-be-built tenant with policies and resources such as which IP/VLAN pools to use, and we chose which data center to create it in. The only manual interaction requiring specific information of the administrator was when the tool prompted us for the tenant's public IP address -- understandably, some may not want to have this metric set dynamically. Once we had hit "Go," we compared configurations throughout the data center before and after the action. We were able to see the appropriate configuration changes on the ASR 1000s, Nexus 7000s, UCS 6100s and the Nexus 1000v.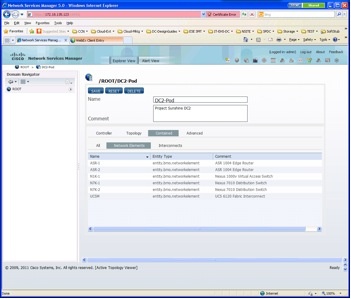 Following that, a Cisco team member showed us a script he had written in Ruby to simulate the higher level tool plugging in to Cisco Network Services Manager. We used the script to provision ten tenants. After less than 20 minutes the script was complete, and we again captured and observed the network configuration changes.

— Carsten Rossenhövel is Managing Director of the European Advanced Networking Test Center AG (EANTC) , an independent test lab in Berlin. EANTC offers vendor-neutral network test services for manufacturers, service providers, governments and large enterprises. Carsten heads EANTC's manufacturer testing and certification group and interoperability test events. He has over 20 years of experience in data networks and testing.

Jonathan Morin, EANTC, managed the project, worked with vendors and co-authored the article.


---
Next Page:
Enterprise Applications: Siebel CRM
Previous Page:
Locator/ID Separation Protocol (LISP)
Back to the
Cisco Test Main Page

(0) |