1/29/2012

Comment (0)

EXECUTIVE SUMMARY: Application-specific quality-of-service prioritization across the network is crucial for cloud services. Cisco's ASR9010 managed quality under congestion well, maintaining low latency for high-priority cloud service patterns while also not starving out low-priority cloud customer traffic.


---
Delivering quality in the cloud is a task that bears many building blocks. When considering the packet network alone, quality of service (QoS) is already a broad term that raises a number of design questions. What algorithms and policies are used to prioritize traffic? What traffic characteristics need to be expected? Is latency or loss more critical? In the cloud, one would expect three tiers (Gold, Silver and Bronze) of application traffic at minimum. In order to come up with realistic traffic patterns, we made a few assumptions.
In almost all cases -- whether business, mobile or residential services -- the traffic patterns are typically asymmetric. As compute platforms, cloud services are likely to generate more traffic than they receive. In effect, there will be little congestion on the switches connected towards the servers. The other direction -- from the virtual machines to the Internet -- will surely be used more heavily.
Generally, a healthy traffic mix is about one-third Gold traffic and 10-to-30-percent Silver traffic, with the remaining traffic filled by emulators.
In the short term, some cloud operators might have much configured gold (a.k.a. high-priority enterprise) traffic. Typically gold services are under-booked and in turn over-provisioned so this should not be a concern. It is more of an issue if there are too many lower-paying customers, who sign on easily, and become overpopulated.
Reviewing the standard network topology, we figured the congestion point would often be the ASR 9010, and the cloud traffic profile we designed -- with an overload of Bronze user traffic -- would fit just right for our use case. We only had to remove links between our data center and our core network in order to emulate the typical situation of having more bandwidth available in the data center than upstream toward the network.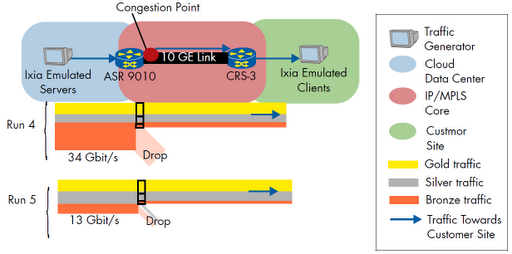 In addition to prioritizing Gold tenants over Silver and Silver over Bronze, Cisco configured a percentage of bandwidth for each class to be guaranteed: 70 percent for Gold, 20 percent for Silver and 9 percent for Bronze bandwidth, so that no single class of customers could get completely blocked even if higher priority traffic aims to monopolize a link.

In order to evaluate the QoS prioritization efficiency, we undertook the following test steps.
Step 1: Transmit all north-bound and south-bound bidirectional traffic between the users and the data center from our
data center traffic profile
and verify that there is no loss, as a baseline. Check.
Step 2: Reduce the bandwidth available between the data center and the core network by removing all links between one of the two ASR 9010s, and removing one link from the second ASR 9010, to create a minimal amount of congestion. Only bronze customers were affected. Check.
Step 3: Remove another link from the remaining ASR 9010, leaving two links left, or 20Gbit/s upstream and downstream. This still left enough bandwidth for Gold and Silver traffic, and only affected Bronze customers, as expected. Check.
Step 4: Remove yet another link between the ASR 9010 and its upstream CRS-3 peer, leaving only a single 10-Gigabit Ethernet link remaining. At this point the Cisco team told us the router was experiencing fabric congestion due to the high congestion, thus not necessarily guaranteeing the dedicated percentages explained above, which are applied after the fabric. Nevertheless, Gold and Silver were forwarded within their dedicated percentages. We observed loss only on Bronze traffic.
Step 5: We then decreased bronze traffic to avoid fabric congestion, and increased Silver traffic to see if Bronze tenants would still get their dedicated 1 percent of traffic. They did.
We also checked to see if latency increased, particularly for Gold tenants, during the various congestion scenarios. The Gold latency remained consistent, as shown in the graph below:
In summary, the ASR9010 passed the three-tier prioritization tests.
---
Next Page:
Unified Fabric (UF) – UCS Manager
Previous Page:
FabricPath
Back to the
Cisco Test Main Page

(0) |