The Human Network's Shadow
In an effort to break out of its bland corporate image, networking giant
Cisco Systems Inc.
(Nasdaq: CSCO) last year invested in a new logo and a buoyant advertising campaign welcoming us all to "The Human Network."
At first blush, MSOs might think The Human Network is a new cable channel begging for carriage on their digital TV tier. Alas, no, The Human Network is Cisco-speak for infrastructure that delivers integrated communications and entertainment applications for the user's seamless enjoyment.
No doubt you've seen some of the slick and sappy TV spots or banner ads this year touting the wonders of the connected life, one that cable, telecom, mobile, and Internet players – and their vendors (Cisco included) – have helped hyperbolize over the last decade.
Telecommuting from Central America while on family business this summer has me genuinely appreciating this network's power. Being able to seamlessly work and live remotely from another country, thousands of miles from home, is genuinely miraculous – as is the long list of other broadband and Internet wonders that improve the quality of our daily lives. They've become so embedded in our routines we already take them for granted.
That said, Cisco's pollyannic
Human Network Anthem
makes it sound as if people were never connected before the advent of TCP/IP, and that life on the network is a blissful technotopia.
Prodigiously, Cisco's anthem features
The Who
's "Baba O'Riley" as its musical score, the tune often misidentified as "Teenage Wasteland" for its famous chorus. It could make one think of today's gaggle of digitally induced ADD kids compulsively SMSing each other while simultaneously surfing the Web, listening to their iPods, and watching HDTV.
Truth be told, networks have always been the hallmark of the human species, whether biological, social, intellectual, artistic, economic, or ecological. It's just that they were mud and blood, paper and metal, or bricks and mortar, rather than mobile, broadband or packetized. As these classic human network patterns migrated from the solid to the virtual, so too has the whole spectrum of human experience, covering the best and the beastly. From spam and scams, cyber stalking and identity theft, to child porn and terrorist collaboration, it's all delivered over the human network.
Baba O'Riley, of course, was written by Pete Townshend, the man who himself was sent through the wringer for allegedly downloading child porn through the Internet. He was eventually cleared of the charges by London police and said the incident was a result of his research work as an anti online-kiddie porn crusader. "I predicted many years ago that what has become the Internet would be used to subvert, pervert and destroy the lives of decent people," Townshend wrote in a 2003 statement. An alternate take on the human network. [Ed. note: We're still waiting for that book, Pete.]
Interestingly, Cisco is even pushing its Human Network message in China. You know, the nation that actively suppresses Internet speech and uses advanced networking technologies to track and imprison voices espousing dangerous ideas like democracy.
A
report
from Human Rights Watch last year noted:
Political censorship is built into all layers of China's Internet infrastructure... Internet routers, devices that deliver and direct packets of data back and forth between networks, are an essential part of Internet networks. Most of today's routers also allow network administrators to censor or block – or, as the industry calls it, 'filter' the data going through them, programming the router to block certain kinds of data from passing in or out of a network... This router-level censorship, configured into the hardware of the Chinese Internet, is reinforced by software programs deployed at the backbone and ISP level which conduct additional 'filtering' of political content.
Any guess on the company that supplies many of the routers running China's own Human Network? On a related note, congratulations to Cisco on being selected earlier this year as one of China's 25 most respected companies.
Ironically, several of Cisco's Human Network ads feature a group of Tibetan monks (likely living in exile following China's annexation of their country in 1959) gathered around a laptop, enjoying the connected lifestyle. It is surprising that China hasn't managed to censor that clip yet. Those monks could be looking at a picture of their beloved Dalai Lama, a move that would land them in a re-education cell.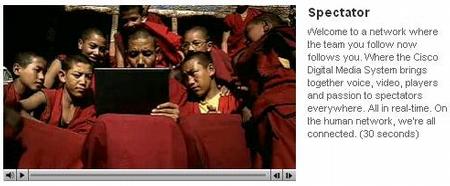 The intention here is not to bash Cisco, by the way. All things considered, you'd be hard pressed to find a better mega-corporate citizen. However, according to the Surgeon General, chugging one's own Kool-Aid may pose health hazards.
Ultimately, technology is merely a tool, and thus, neutral by nature. It can be used to inform, entertain, enlighten, attack, oppress, or enslave. It is Humans who determine whether the Network is creative or destructive, friend or foe. Maybe for its next campaign Cisco will again tap into The Who's music library. "Won't Get Fooled Again" could be a good choice as the networker "takes a bow for the new revolution."
— Michael Harris, Chief Analyst,
Cable Digital News
EDUCATIONAL RESOURCES



UPCOMING LIVE EVENTS
June 6-8, 2023, Digital Symposium
June 21, 2023, Digital Symposium
December 6-7, 2023, New York City
All Upcoming Live Events
PARTNER PERSPECTIVES
- content from our sponsors