Omnichannel Collaboration Experience Catalyst Enables CSPs' Digital Operation Transformation

5/12/2016

Comment (0)

Omnichannel coordination capability is an urgent requirement for communications service providers (CSPs) who want to expand and enhance their customers' experience at the various customer touchpoints. More and more customers complain about an inconsistent experience across the various channels. One of the major root causes of these issues is the silo architecture of sub-business systems of CSPs, which causes major variations in experience.
In the Ominchannel collaboration experience Catalyst we are focused on how to provide the best match of omnichannel services and resources in order to ensure a consistent and seamless customer experience. We are exploring the omnichannel customer-centric experience operation from the outside-in perspective and looking at how to address key pain point scenarios and solutions.
We are distinguishing key experience features, building the value measurement metrics and developing innovative data analytics solutions. The key concepts we will leverage in providing an omnichannel experience are:
1) ROADS (Real-time On-demand, All-online, Do it yourself and Social) experience based on Omni-channel Collaboration Customer Engagement System;
2) Experience & Operation Measurement Metrics KPIs;
3) Business & Customer Analysis, and NBA capability based on Big Data Analytics Platform.
The Omnichannel collaboration experience Catalyst focuses on the key requirements of the champions of this Catalyst (Chunghwa Telecom and NTT), which are described below:
Lack of proactive customer care
During a customer's journey they expect help with the products they have bought. Currently, CSPs don't have a mechanism for proactive customer care and do not provide a proper next best action to improve the customer's experience. When a problem occurs with a smart home product, for example, the customer needs to call for maintenance when they realize the problem. The lack of proactive care and relevant compensation creates a poor customer experience.
Lack of seamless workforce integration
CSPs and vendors both need to install CPE (customer premises equipment) or IoT (Internet of Thing) devices in customers' house or offices. Customers are not always at home and want the flexibility to choose the installation time. Some customers would prefer for all their devices to be installed or set up at once, while the others want to use the service as soon as possible so the order may need to be broken down into several sub-orders. It is complex to synchronize the sub-work streams and negotiate partners to schedule a best time. A mechanism to find the most appropriate time for the CSP and the customer would enhance the customer experience.
Difficulty of dynamic request update
During the installation period, some customers want to add extra CPEs. Currently the equipment vendor/installation field agent needs to bring this new requirement back to CSP, and wait for the installation process to be rescheduled. It increases the wait time and decreases customer satisfaction.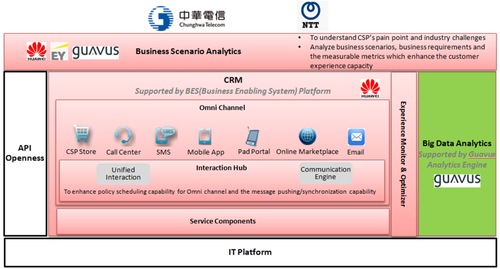 The Catalyst hopes to resolve these pain points through innovative solutions with an omnichannel focus. This Catalyst is being championed by two CSPs: Chunghwa Telecom (Taiwan) and NTT (Japan), who provided the direction and expectations for this project. The participants in this Catalyst (the companies tasked with addressing the requirements of the champions) are Huawei, Guavus and EY Moscow. Huawei's BES platform and Guavus' data analytics are utilized as the technology platform enabling the requirements to be addressed. Huawei and EY Moscow are involved in developing the business scenario and analytics requirement, and finding out the measurable metrics for monitoring and optimization for the CSP.
Quotes from Chunghwa Telecom:
The catalyst project is an important key for CHT to move from multi-channel service provider to Omni-channel service provider. In this project, end to end Omni-channel solution is suggested and best practice is proved. CHT believes that user experience will be big improved by results of this project.

(0) |