DeWi players hope to shift projects from pilots to payments
The City of Shreveport, Louisiana, is just one of many locations testing out the DeWi way of doing things.
Decentralized wireless (DeWi) companies around the world are hoping to use cryptocurrency rewards and blockchain technologies to encourage everyday mobile users to purchase and maintain their own small-scale cell sites. The idea is to create decentralized networks that are owned and operated by the network's users.
"The Shreveport project is super interesting," said Christian Kurasek, co-founder and CFO of Pollen Mobile, a DeWi company whose platform is being used in the project.
As detailed in a lengthy article from Smart Cities Dive, Shreveport officials worked with vendor Spread Networks to install fixed wireless transmission sites across the city. Residents could then visit some Shreveport libraries to check out receivers, which they could take home for Internet access. The goal, according to city officials, is to quickly and cheaply provide Internet services to parts of the city that don't have any.
Kurasek explained that Spread Networks is using Pollen's DeWi platform for the service, which he said removes expenses from the network while ensuring that city officials have total control, including ownership of the network's hardware.
"It just gives them a lot of control," Kurasek said.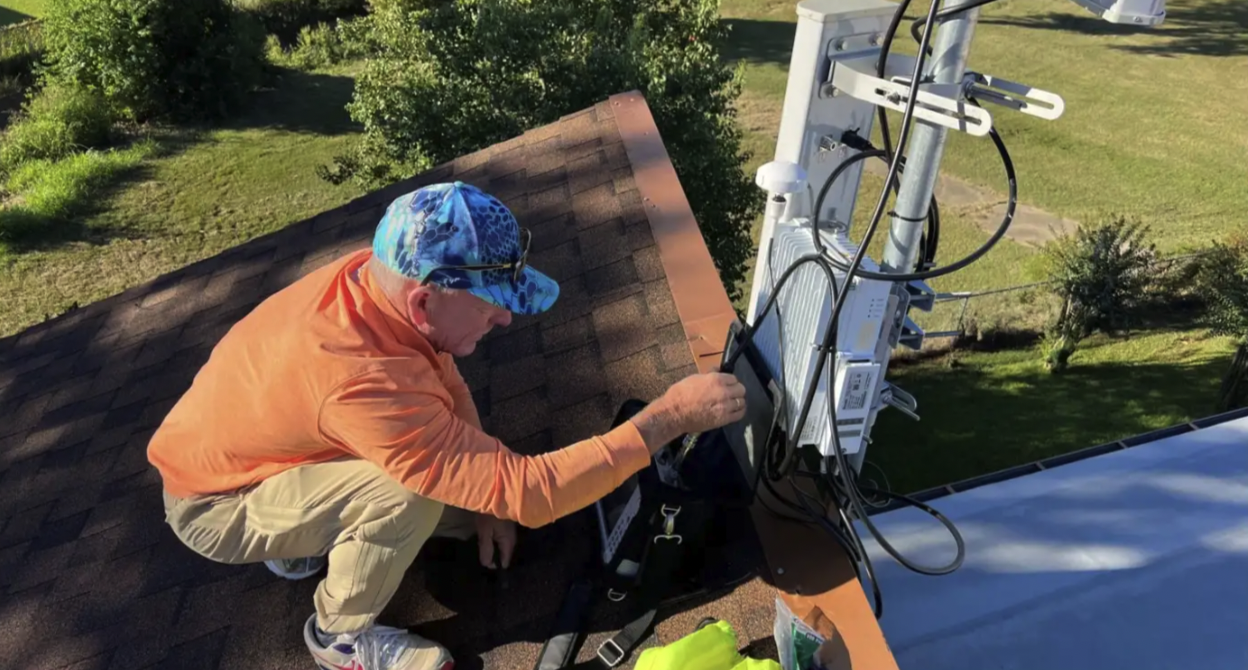 However, he said the project in Shreveport remains in the testing phase, and as a result, Pollen can not yet boast of paid data traveling over its system, as company officials had hoped to do by this time.
"We hope that that's the first of many paid pilots," Kurasek said, noting that city officials are still evaluating whether to turn their project into something more permanent.
"We still have a lot of other projects that are still in early stages of development," he added. "Things always take longer than you expect in the telecom world."
One of Pollen's other projects involves private wireless networks for some California wineries. Specifically, Kurasek said Dutcher Crossing and Cast Wines in Sonoma County have both installed Pollen-managed wireless networks running in unlicensed 3.5GHz CBRS spectrum, with the goal of keeping their employees connected while out in the field and their customers connected when they're outside of Wi-Fi coverage.
"That's been going well, we've been learning a lot from that," he said. "It's another case study."
A growing trend
Pollen isn't the only company chasing the DeWi opportunity. A large and growing crowd of companies – all in various stages of maturity – are also deploying networks.
Chief among them is Helium, which essentially proved the model with its LoRa wireless network for Internet of Things (IoT) applications. Helium's LoRa network today counts almost 1 million transmission sites around the world. Further, the company's new 4G play, running in the unlicensed 3.5GHz CBRS spectrum band, has more than 8,000 transmission sites all around the US.
Soon, Helium hopes to turn its 4G pilot into a commercial offering through an MVNO with T-Mobile. Commercial services are scheduled to launch sometime in the first quarter of 2023. "Who's ready for the new kid on the block?" tweeted one Helium executive recently.
Pollen is planning a similar consumer smartphone play at some point in the future.
"That's something that remains very much one of our top priorities," Kurasek said.
Additional DeWi players include Xnet, KarrierOne, ThreeFold and Really, among others. But some companies appear to be more serious than others.
For example, Gaia 5G promised in a November press release to "leverage blockchain, the cloud-based advantages of shared-spectrum enabled CBRS 5G connectivity to advance cutting-edge projects and research," including a network launch in seven states. But the company's website raises more questions than answers, with a number of broken links and unfinished pages, and a phone number with too many digits to be based in the US.
Challenges ahead
Escape Velocity Ventures, an investment firm with $20 million earmarked for companies in and around the DeWi sector, released a "state of the market" report in December. In it, the firm boasted that, collectively, DeWi players have managed to deploy more than 8,000 CBRS radios around the US – an impressive feat given that Dish Network counts around 15,000 sites in its own 5G network. The investors at Escape Velocity Ventures calculated that those DeWi radios represent roughly $20 million in investments.
However, the firm also outlines the many challenges facing DeWi players. For example, falling cryptocurrency prices have taken the wind out of most DeWi projects. In the fourth quarter of 2022, DeWi network growth "ground to a halt as [cryptocurrency] token prices fell below miners' 1-year breakeven levels'," according to the report. In DeWi jargon, miners are the people who buy and maintain radios.
And Escape Velocity Ventures estimated that Helium's LoRa network – widely regarded as the catalyst for DeWi – only generates $50,000 per year in net revenues.
"Building infrastructure is hard ... especially decentralized infrastructure," the firm concluded in its report.
Related posts:

— Mike Dano, Editorial Director, 5G & Mobile Strategies, Light Reading | @mikeddano
PARTNER PERSPECTIVES
- content from our sponsors