CommScope bulks up fiber optic cable production to aid rural rollouts
CommScope is expanding its US-based fiber optical cable production to help accelerate the rollout of broadband networks in underserved and unserved areas.
CommScope's announcement, part of the company's own "Broadband for Everyone" campaign, arrives about three months before the National Telecommunications and Information Administration (NTIA) announces how it will allocate funds to US states for the $42.45 billion Broadband Equity, Access, and Deployment (BEAD) program.
CommScope has pledged to boost fiber optic cable output, including output for a new, rural-optimized "HeliARC" fiber optic cable product line. The expansion is expected to provide enough new capacity for the HeliARC fiber optic cables to pass at least an additional 500,000 homes with fiber-to-the-premises (FTTP) services, the company said.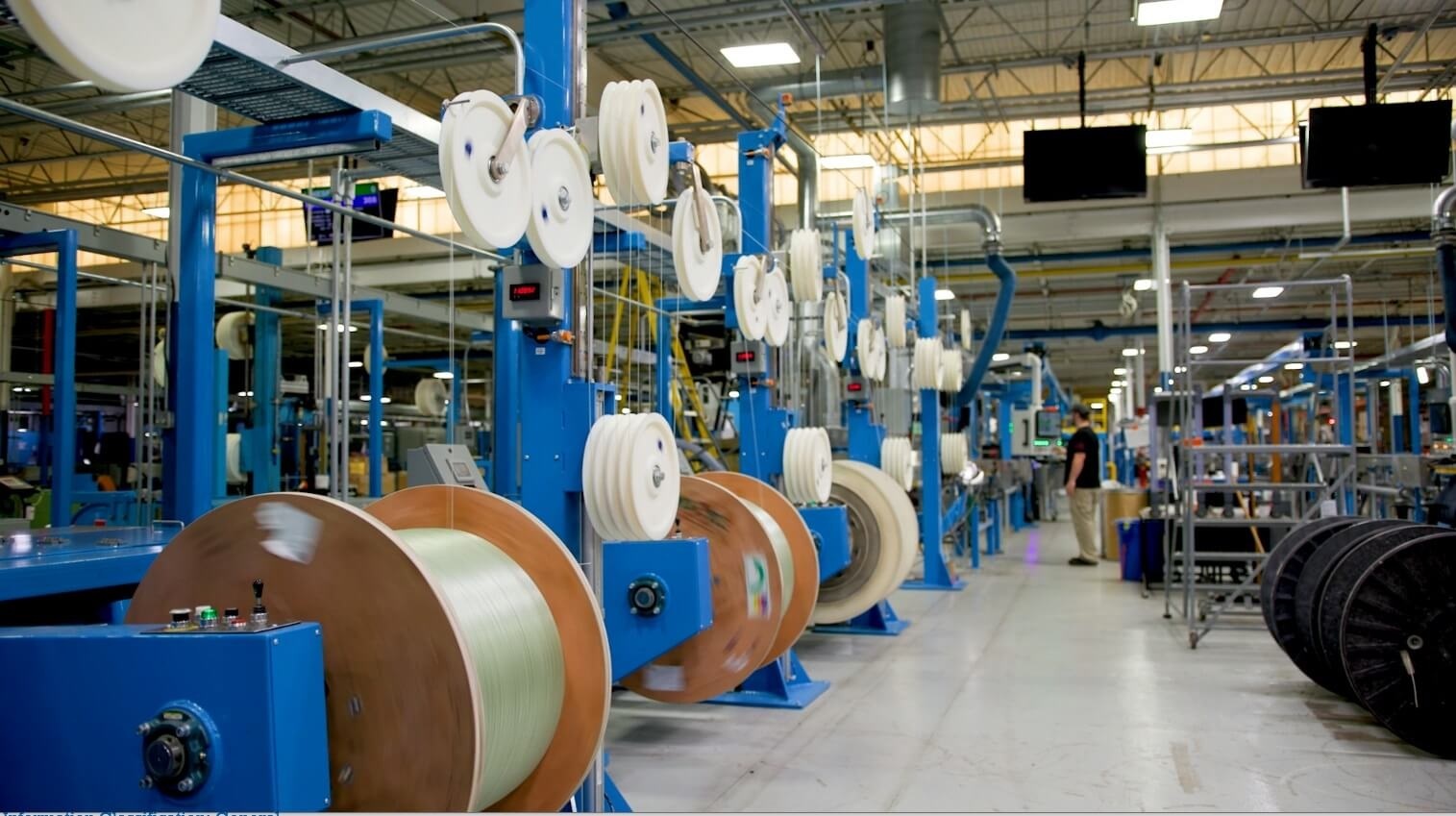 CommScope said its new HeliARC fiber optic cables were specifically designed to suit the needs of rural deployments. Those new fiber optic cables are smaller and lighter-weight, enabling faster installations and lower shipping and deployment costs.
"This new technology was designed specifically for rural communities in mind," CommScope President and CEO Chuck Treadway explained today at a press event held at the company's fiber manufacturing plant in Catawba, North Carolina. Of note, the decrease in size and weight of HeliARC cables allows for more product to move in one shipment, he added.
CommScope's fiber production increase, along with the addition of production lines for the new HeliARC cables, will be taken on at CommScope's facilities in Catawba and Claremont, North Carolina.
Tied in, the company said it is investing $47 million in US capex toward expanding fiber optic cable production focused on rural network deployments.
Easing supply chain constraints, addressing 'Buy America' policies
CommScope estimates that the production increase will also create employment opportunities to the tune of at least 250 jobs over the next five years, with 90% of them not requiring a college degree.
In addition to helping to ease supply chain constraints, CommScope believes the decision will also help to address "Buy America" policies associated with government-subsidized broadband network deployment programs. That piece enters the picture amid concerns that strict Buy America requirements threaten to delay broadband network rollouts in rural areas, including those associated with BEAD, if flexible waivers on those restrictions are not included.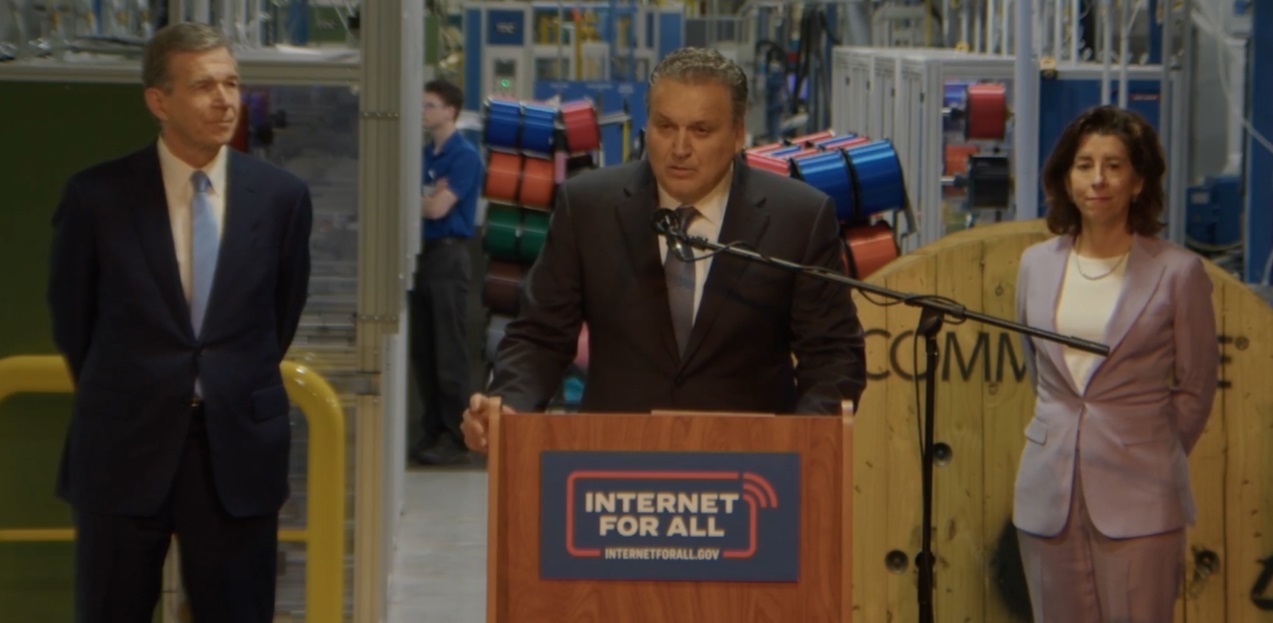 Under the currently proposed rules for the Build America, Buy America Act (BABA), materials such as fiber optic cable and polymers used in fiber optic cables would fall under the restrictions. Concerns about BABA also extend to other key products for broadband services, including routers, switches and gateways that use components that presently are sourced primarily from China or Taiwan.
Heading into this new commitment, CommScope previously invested more than $70 million to meet demands for fiber-to-the-home buildouts, with an emphasis on rural broadband developments. That included a conversion of a large portion of CommScope's facilities from coaxial production to fiber optic cable production lines. That earlier move doubled CommScope's fiber capacity and added nearly 350 jobs, Treadway said.
"More is needed and sometimes in challenge we find opportunity," he added, referring to the new, additional fiber production commitment CommScope announced today.
"Broadband has become a necessity in the day-to-day lives of every American," Treadway declared. Broadband connectivity, he added is an "essential component ... that we all rely on for just about everything – work, school, telehealth appointments, family connections, online shopping and more."
Treadway was joined on stage by state and federal officials who touted the importance of building partnerships to bridge the so-called digital divide.
"We're on a mission to connect everybody. It's about partnerships," US Secretary of Commerce Gina Raimondo said.
"We are grateful to CommScope for the jobs that you have created in North Carolina. And we're ready for more, Chuck," North Carolina Governor Roy Cooper said. He estimated that nearly 1 million people in North Carolina alone currently "are on the wrong side of the digital divide."
Update: CommScope wasn't the only company making fiber manufacturing news in the state this week. Corning announced that it has opened a new optical cable manufacturing "campus" (with two new facilities) in Hickory, North Carolina. That campus, which will add "hundreds" of jobs to Corning's existing workforce of more than 5,000 people in the state, will emphasize US fiber buildouts in the rural US, the company said. Raimondo and Cooper were also on hand for Corning's opening ceremonies.
Related posts:

— Jeff Baumgartner, Senior Editor, Light Reading
PARTNER PERSPECTIVES
- content from our sponsors