Although a tru2way box remains absent from Digeo Inc. 's lineup, the Paul Allen-backed firm has just added a handful of features to its retail high-definition (HD) DVR, including a component that allows users to stream in video from Netflix Inc. (Nasdaq: NFLX), Hulu LLC , and other Internet-fed sources. (See Digeo Releases More Bells & Whistles.)

Digeo first introduced the $799 "Moxi" box in January at the Consumer Electronics Show, boasting an HD-DVR with 500 Gigabytes of internal storage, 1080p resolution, and a navigation system that's optimized for widescreen TVs. Amazon.com Inc. (Nasdaq: AMZN) signed on as Digeo's first retail partner, but the box and software maker is in discussions with additional distribution partners, according to Digeo CEO Greg Gudorf. (See Digeo HD-DVR Enters Retail Waters .)

Now Digeo has unveiled six new features. Among them, cable operators might be most concerned about "PlayOn," a media server application that allows users to use the box's IP connection to watch videos from Hulu, YouTube Inc. , and other "over-the-top" Web TV service providers. That feature regularly sells for $39.99, but Digeo is offering it for free during a promotion period.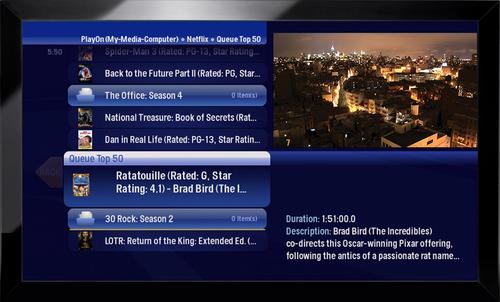 Digeo has also: added DLNA 1.0 capabilities with "Media Link," which allows customers to more easily locate digital photos and videos stored on their home networks; integrated the Rhapsody music service; and added in "eControls," a feature that allows users to adjust the room's lighting remotely, provided those lights are Z-Wave-certified.

The company has also added a "Mosaic" browsing feature for the already-integrated Flickr photo service, and a Website bookmarking application called "MoxiNet."

Digeo is working on technology that will enable the Moxi product to access channels delivered in a cable operator's "switched" tier. That capability could be ready by as early as this summer, Gudorf says.

Digeo is also developing a multi-room DVR capability that's enabled by the "MoxiMate," a smaller set-top box that feeds off the primary HD-DVR.

Digeo believes there's a 12- to 15-million unit market for its high-end retail box but, so far, has not provided any shipment or sales figures. Gudorf will only say that the product is "making headway in the market." At last check, the product had received nine reviews on Amazon.com, with an average score of 4 out of 5 stars.

No sign of tru2way
Digeo has signed the requisite CableLabs licenses to develop a tru2way product, but the company has yet to unveil a media center or set-top box based on the "open" platform. It has, however, developed a guide/navigation system for the tru2way environment and showed it off at last week's Cable Show in Washington.

"What we're doing [with the retail HD-DVR] could not be accomplished in tru2way, given the status of tru2way right now," Gudorf said, but he didn't elaborate on what those specific limitations are. Although Digeo's retail box currently runs "native code," it could be transitioned to tru2way in the future, Gudorf added.

In the meantime, Digeo has developed a more basic box, the Moxi HD DVR 3012, for direct sale to MSOs. BendBroadband and Charter Communications Inc. are the first to offer it, though other MSOs are trialing it, according to Gudorf. (See Charter Turns to Chapter 11 and Charter: We Still Dig Digeo .)

— Jeff Baumgartner, Site Editor, Cable Digital News