Digeo Flips Switch on SDV, Multi-Room
Digeo Inc.
, Paul Allen's maker of high-end set-tops and navigation apps, has spruced up its retail-focused HD-DVR with a suite of upgrades that allow for the box to access channels in cable's "switched" tier and (for a price) to enable multi-room DVR capabilities.
On the switched digital video (SDV) front, Digeo's Moxi box can now support
Motorola Inc.
(NYSE: MOT)- and
Cisco Systems Inc.
(Nasdaq: CSCO)-made Tuning Adapters – special dongles that allow inherently one-way digital cable set-tops to access and display switched channels. The Moxi box will connect to the tuning adapter via a USB interface. (See
NCTA Sees Solution to Switching Snag
and
CableLabs Stamps SDV Tuning Adapters
.)
MSOs, most notably
Time Warner Cable Inc.
(NYSE: TWC),
Bright House Networks
, and
Cablevision Systems Corp.
(NYSE: CVC), are using SDV technology to get more bang out of their existing bandwidth. The technology may start to catch on again after the
Federal Communications Commission (FCC)
reversed a ruling that may have been keeping some new SDV deployment plans on the back burner.
Comcast Corp.
(Nasdaq: CMCSA, CMCSK) hasn't done much with SDV yet, relying instead on an analog reclamation strategy. (See
FCC Reverses SDV Ruling
and
Comcast's $1B Bandwidth Plan
.)
Rooms with a view
Following several earlier hints, Digeo has also taken the wraps off a multi-room DVR strategy that centers on the Moxi Mate, a smaller box that feeds off the primary Moxi box using 802.11n,
Multimedia over Coax Alliance (MoCA)
,
Home Phoneline Networking Alliance (HomePNA)
,
HomePlug Powerline Alliance
, or whatever other wired or wireless home networking tech customers choose to use.

Digeo is moving ahead with a multi-room DVR strategy just as MSOs gear up for their own using equipment from their two key suppliers, Moto and Cisco. (See
Cox Gears Up for Multi-Room DVR
,
Cox, Entropic MoCA Deal Not Exclusive
,
The Cable Show '09: 5 Takeaways
.)
But Digeo's approach isn't cheap. Moxi Mates retail for $399 per unit, though existing Moxi HD-DVR customers can purchase one for $199. Digeo is selling all its gear through its own site and via
Amazon.com Inc.
(Nasdaq: AMZN).
Although the Moxi Mate can access shows recorded on the main DVR and multiple Mates can be hooked into the home network, there are some limitations. Gudorf says Digeo suggests that customers only operate one Moxi Mate at a time to avoid some potential performance degradation issues.
Also, at this time, customers can't schedule recordings on the main Moxi box via the Moxi Mate. However, the secondary box can handle other features, such as accessing videos and photos stored on the home network and the main box's Internet browser.
Among other upgrades, the new software release gives customers the options to use a more "traditional" grid-based menu, though Digeo still "prefers" its original menu-driven navigation system. It's also allowing the main box to connect to a 6-terabyte drive (enough to hold about 1,000 hours of HD video) made by
LaCie
that retails for $1,399. The primary Moxi HD DVR has 500 gigabytes of capacity, and can boost storage using any other off-the-shelf eSATA drive, Gudorf notes.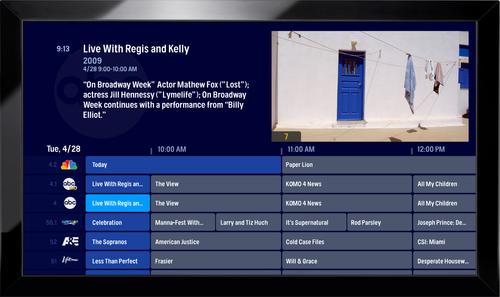 Digeo introduced the $799 Moxi HD-DVR in January at the Consumer Electronics Show, targeting a sector dominated by
TiVo Inc.
(Nasdaq: TIVO) and by more "generic" DVRs offered by MSOs. Digeo added several new features, including access to
Hulu LLC
, in its spring software update. (See
Digeo HD-DVR Enters Retail Waters
and
Digeo Goes Over the Top
.) TiVo, meanwhile, has made some recent progress with its cable distribution strategy, counting partners such as Comcast,
Cox Communications Inc.
,
Evolution Broadband LLC
, and, most recently,
RCN Corp.
. Corporate cousin
Charter Communications Inc.
, which is in bankruptcy, remains Digeo's biggest MSO customer. (See
RCN Makes TiVo Its Dominant DVR
and
Charter Bankruptcy Update
.)
Digeo's retail box can decrypt cable digital video signals using
CableCARD
modules, but it doesn't support
tru2way
. However, Digeo claims the box can be upgraded to handle the
CableLabs
-specified platform.
Digeo still isn't releasing sales figures, but Gudorf still thinks his company's addressable market is 12 million to 15 million digital cable households. The company is also hoping to lure more customers with an option that allows them to buy a Moxi HD DVR and a Moxi Mate for $49.95 per month for 20 months.
— Jeff Baumgartner, Site Editor,
Cable Digital News
PARTNER PERSPECTIVES
- content from our sponsors