Rolling your own
Traditionally, telecom network operators have chosen to consume open source code through vendor distributions, which hold the promise of ongoing support and maintenance, but even that may be changing. Bill Walker, senior director of strategy advancement at CenturyLink Inc. (NYSE: CTL), admitted on the central-office-to-data center panel that the economics have shifted in the last 18 months to where his organization is now taking a "roll-your-own" approach to a small percentage of open source, typically what he considers mature commodity things -- such as Linux -- but also the "bleeding edge" stuff where it's important for CenturyLink to engage deeper to direct the activity.
That's the choice Bell Canada made in adopting the Open Network Automation Platform (ONAP) , Saulnier said. It's not unsupported, he hastened to add, but it does require greater due diligence internally to adopt an open source platform ahead of its commercialization. (See Bell Canada Pioneers Production ONAP.)
Many of the behavioral changes by network operators are born out of frustration, said David Amzallag, former head of virtualization at Vodafone Group plc (NYSE: VOD) and now a consultant to industry start-ups, on the keynote panel. When Vodafone began its virtualization transformation, one of its first steps was to reshape its procurement operation, he explained, initiating an effort to redefine vendor relationships and the way the operator collaborated with its vendors. This was necessary because no single vendor could provide everything Vodafone needed, he added, making it unlikely that a single vendor or even dual-vendor ecosystem would work.
"We ran several use cases that are now commercially deployed under new business models," Amzallag said. "It took us several years -- it wasn't easy. We started to work with a lot of startups."
Those startups are now commercially deployed in Vodafone's network under new business models which are different from the business relationships with the operator's long-trusted vendors, he said. When Vodafone went looking for its first network orchestrator -- a totally new thing for its network -- it initially asked the eight potential vendors for their pricing models, and got eight very different ideas, he added.
"The [ecosystem] was so immature, so we decided to be the first responsible adult in the room," Amzallag said. Vodafone created what he said was a simplified pricing model, that wasn't intended to lower prices so much as reduce complexity. One traditional vendor promptly dropped out of the procurement process rather than attempt the change.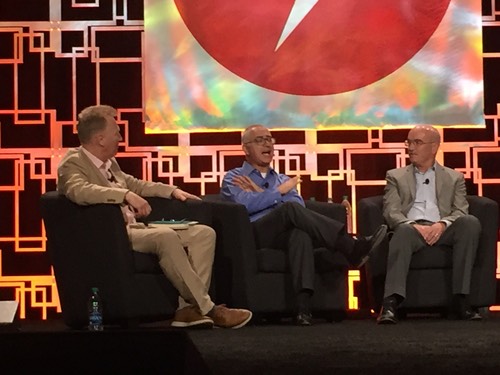 Other vendors are beginning to respond to the need for changes in the way things are priced, Frane said, but much of that change is being driven by pressure from startups and other technology companies willing to move faster, he said.
Traditional vendors "are a bit slower, but they do know they need to change their pricing models," Frane commented.
Of course, network operators are not the only ones feeling frustration in this time of flux. Wind River's Ashton pointed out that vendors are having to try to make sense of what network operators want and need when they sometimes can't spell it out clearly in a basic RFI. And as the Wednesday morning keynote discussion showed, while everyone seems to agree the new pricing/consumption/collaboration models are needed, it's not yet clear what those will be.
— Carol Wilson, Editor-at-Large, Light Reading