Is Virtualization a DIY Deal for Telcos?
For the largest communications service providers, network transformation is becoming a do-it-yourself operation. Using open source and internal software development teams, companies such as CenturyLink, Verizon and Telefónica are developing for themselves what they once purchased from the vendor community.
The TM Forum 's recently released Digital Transformation Tracker reflects this shift, noting that operators are acknowledging they are adopting a larger technology role, hiring hundreds of software engineers and developing new internal processes, including DevOps and Agile methods. Those trends only increase in the years to come, as shown below.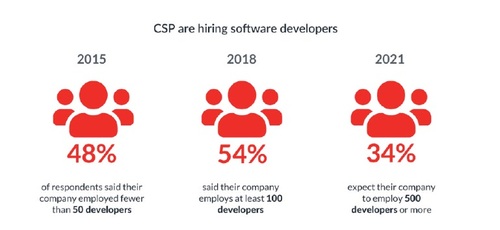 AT&T Inc. (NYSE: T) has been doing in-house software development for decades, as have others, but the rise of open source is creating a new opportunity for operators to get help from the broader community for what they can't do internally. AT&T did this when it open-sourced its ECOMP project to become a significant part of the seed code of Open Network Automation Platform (ONAP) , and it has done similar things with other projects such as its Disaggregated Network Operating System, or dNOS, now a project at the Linux Foundation, and Akraino, the edge computing software project launched with seed code from AT&T. (See MANO Marriage: ECOMP, OPEN-O Converge as ONAP, AT&T's Rice: White Box OS a Team Effort, and AT&T Boosts Akraino With Code, Summit.)
In each case, AT&T executives said they were moving to an open source approach to get help in moving forward faster, realizing that much of the work being done is common to the industry.
Other carriers have admitted, however, that they are doing internal software development because what they need is specific to their operations. An internal software development team drives Verizon's efforts to develop machine learning and artificial intelligence in its wireline unit because the company couldn't find vendors with the right understanding of its networks, as Matt Tegerdine, director of network performance analytics for Verizon Communications Inc. (NYSE: VZ) told Light Reading in an interview. (See Verizon: Vendor AI Not Ready for Prime Time.)
For the past five years, Tegerdine has been gradually building an internal team that he said operates like a Silicon Valley startup by building models that address specific problems in the network and working toward targets such as predicting outages and more accurate responses to customer complaints. His team brings together individuals with network expertise, software development and data science, and they use open source tools to solve problems.
Grow your own
CenturyLink Inc. (NYSE: CTL) is another operator now touting its "home brewed" virtualization tools, as Kevin McBride, principal architect of SDN & NFV technologies, described them. After trying various NFV orchestrators from vendors, CenturyLink built its own. The company has even become known for acquiring other firms specifically for their software development expertise. (See McBride on Why CenturyLink Delivers 'Home-Brewed' Flavors of NFV & SDN and CenturyLink: Kill Complexity to Speed NFV and CenturyLink to Open Source NFVi Orchestrator.)
Bill Walker, senior director of network architecture, says CenturyLink has even moved away from using only vendor-supported distributions of open source software -- something he swore it would never do -- to directly downloading open source to build its own tools. (See Service Providers Should Adapt to Open Source World.)
Telus and Telefónica are two other operators who have spoken of their own internally developed software and operations systems and the values of working "from scratch" in creating their software solutions. (See Telus: Let's Push to Cloud Native Now and Telefónica's Elizondo on UNICA's Promise of Network Automation.)
Telstra Corp. Ltd. (ASX: TLS; NZK: TLS) CEO Andrew Penn is quoted in the Forum's DTT3 report as saying the company currently has more than 100 data scientists and is delivering about 40% of its IT projects through Agile methodology, with the intent of having 100 Agile teams working by the end of this financial year.
For vendors, this marks a significant shift away from the total dependency which has supported them for years. But, as TM Forum Chief Analyst Mark Newman says, vendors themselves need to adapt and be able to work in more collaborative ways with larger operators, as well as to work more directly with the smaller players -- some of whom are still pretty big -- who aren't as eager to hire their own software talent or aren't able to compete in a very tight market for those folks, and may also not have the resources to participate.
---
How will service providers enable automated and efficient network operations to support NFV & SDN? Find the answers at Light Reading's Software-Defined Operations & the Autonomous Network event in London, November 7-8. Take advantage of this opportunity to learn from and network with industry experts – communications service providers get in free!
---
There is also a potential risk for operators who grow their own. As Heavy Reading's James Crawshaw noted earlier this month, some internal software projects can become unwieldy, as he says AT&T's ECOMP did, and that can create problems of a different sort. (See Is Open Source the Right Approach for NFV Orchestration?)
There is also greater pressure on operators with internal development to be more active participants in the open source projects from which they need support, and that can require significant internal culture change, as Bryce Mitchell, the director of NFV, cloud, innovation labs and support networks at Telus Corp. (NYSE: TU; Toronto: T) said on a recent Light Reading panel.
And there is, of course, the ultimate risk: What happens when something goes wrong? If there is no vendor throat to choke, can a network operator handle its own recovery and is there an internal culture change for that kind of thinking?
Right now, it seems like larger operators are weighing the risks and deciding to take their chance on internal software development enabling them to move at the pace they need to transform their networks to let them both scale and compete with the hyperscale players to stay relevant in the digital world.
— Carol Wilson, Editor-at-Large, Light Reading